Casual Vacancy adaptation lands Writer's Guild nomination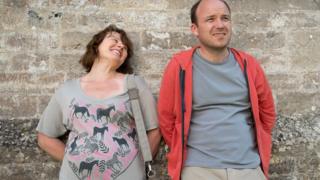 The BBC's adaptation of JK Rowling's The Casual Vacancy has been nominated for best short form drama by the Writer's Guild of Great Britain.
It is up against ITV's Code of A Killer and BBC Two's The Gamechangers, starring Daniel Radcliffe, about the creation of the Grand Theft Auto game.
Wolf Hall, Not Safe for Work and Jimmy McGovern's Banished make up the long form category.
The awards will be held on 18 January.
The best situation comedy shortlist includes season four of Veep, by Scots writer Armando Iannucci, Channel 4's critically well-received Catastrophe written by, and co-starring, Sharon Horgan and Rob Delaney, and the BBC's W1A.
Author Nick Hornby has a best screenplay nomination for the film Wild, which starred Reese Witherspoon, while Alex Garland has been recognised for his screenplay for Ex Machina against Paul King's script for Paddington .
Gregory Burke's '71, The Falling by Carol Morley and X + Y by James Graham have all been shortlisted as nominees for best debut screenplay.
In total, there are nominations across 12 categories, including best long-running TV series, best radio comedy and drama, and best play.