Breaking Bad spin-off Better Call Saul up for three Writers Guild awards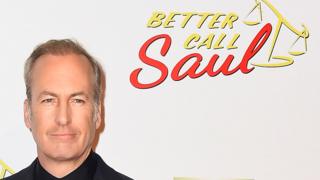 Breaking Bad spin-off Better Call Saul has been nominated for three Writers Guild of America (WGA) awards for its critically acclaimed debut season.
The AMC show, which is built around the shady lawyer character Bob Odenkirk played in Breaking Bad, is up for the drama series and new series awards.
Its launch episode, meanwhile, also has a nod in the episodic drama category.
Game of Thrones, Veep and the final season of Mad Men are also in line for awards, to be given out on 13 February.
Mr Robot, another show to have launched this year, also has nominations in the drama series and new series categories.
The show, which initially premiered online, tells of a young computer programmer who joins a team of so-called "hactivists".
Cold War drama The Americans is also up for the drama series award, alongside Game of Thrones, Mad Men, Mr Robot and Better Call Saul.
Political satire Veep's competition in the comedy series category includes Transparent, Amazon's series about a retired professor who "comes out" as transgender.
Veep has an additional nomination in the episodic comedy category for Joint Session, the first instalment in its most recent season.
Breaking Bad, which told of a teacher who turned to crime after being diagnosed with cancer, won six awards from the WGA over the course of its six years on air.
The Writers Guild recognises achievements in the writing of US TV, radio, news and animation, rather than actors or directors.