Sir David Attenborough: 'I am concerned about future of the BBC'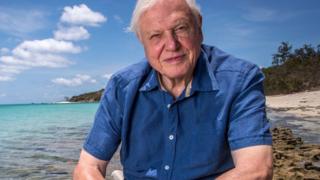 Sir David Attenborough has voiced concern about the BBC's future as he returns to film at the Great Barrier Reef, after nearly 60 years.
"If you lose the BBC, then I certainly would have lost a very important element of my life," he says.
The BBC announced £150m cuts in November with a further £550m of savings due in spring 2016.
The cuts follow a fall in licence fee income and the extra cost of providing free television licences for over-75s.
The government has also pledged to close the so-called 'iPlayer loophole' - which refers to people who have switched to watching BBC services only on "catch-up" via the iPlayer, which does not currently require payment of the licence fee.
It will also pump £85m a year into new BBC services around the world in Russia, North Korea, the Middle East and Africa.
But with a decision on the BBC's royal charter due next year, culture secretary John Whittingdale has said questions remain on the broadcaster's size and its activities.
"The BBC has got enough problems trying to keep up with changing social demands let alone what politicians want," Sir David adds.
"If it doesn't have the support of the public, the BBC is lost but it doesn't mean that all of us, all the time think the BBC is wonderful.
"There are lots of things which could be better, there are lots of things that you could do more economically, more creatively but by-and-large it's doing pretty well.
"Every section of society, for one reason or another, should be glad that the BBC is there."
Sir David's new three-part series, which begins later this month on BBC One sees him return to the Great Barrier Reef in north-eastern Australia.
It is the world's largest coral reef system, composed of more than 2,900 individual reefs and 900 islands stretching over more than 2,300 kilometres (1,400 mi).
Sir David first filmed on the Great Barrier Reef in 1957 as part of a documentary on birds.
Now, he has returned in a state-of-the-art submersible, capable of diving beneath the waves to depths of almost 1,000m (3,300ft) .
During filming, Sir David and the small crew on board the Triton set the deepest recorded manned dive below the reef.
"It is an extraordinary time in natural history film-making that there is almost nothing that I can think of that we can't do," he says.
"Bearing in mind I started 50 to 60 years ago when you could film in black and white and for about two-and-a-half minutes.
"Now, you can go anywhere, you can go to the bottom of the sea, you can go into the stratosphere, you can film in the darkness, you can film in the sun or slow things down or speed things up or film things the human eye can't see.
"It is unbelievable, the versatility is amazing."
As beneficial as the leaps in technology have been to nature film-makers, it has also led to more affordable hardware which could soon see enthusiastic amateurs taking the plunge and potentially disturbing an already fragile ecosystem.
"It will be a very long time before you have mass tourism in submersibles," Sir David insisted. "They take two people at a time and even then the costs of manning that craft is astronomic."
The veteran presenter says the greater danger comes in the shape of global warming.
"The reef is not being damaged, the people looking after the reef are very careful about visitor numbers and not doing things to damage the reef.
"Of course there will be consequences, there's bound to be but the reef will survive that pressure. The thing it may not survive is the steady erosion and effect of global warming, if the temperature rises by two degrees and the acidity by a measurable amount, lots of species of coral will die out.
"Quite what happens then will be anybody's guess but it won't be any good."
Sir David is soon to celebrate his 90th birthday but with more TV series planned, he puts his longevity down to nothing more than good old-fashioned luck.
"I've got friends and relations my age who can't walk. I assure you, it's not virtue, neither is it doing things like running around the park three times a week.
"I'm just lucky. if you have that luck it seems ungrateful not to take advantage of it."
One the subject of retirement, Sir David insists the thought never enters his head.
"Things don't go stale. Going to the Great Barrier Reef doesn't get old. I went there 50 or so years ago and it was fabulous and it was fabulous last year, you don't tire of that.
"Think of the tens of thousands of people who would give their right arms to do that."
The Great Barrier Reef starts at 2100 GMT on 30 December on BBC One.