Fewer repeats over Christmas on BBC One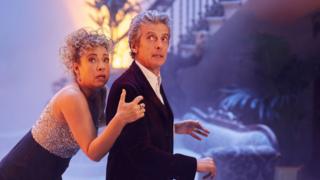 More than 90% of BBC One programming on at peak time over Christmas this year will be new, the corporation's acting head of TV has said.
"I think this is an impressive commitment, not least given the BBC is facing unprecedented financial pressure," Mark Linsey added.
He also hailed this year's Christmas line-up, which includes Sherlock and Luther, as "the BBC's best ever".
Other highlights include Strictly Come Dancing and Mrs Brown's Boys.
Linsey warned that with the BBC "in the process of saving £1.6bn", the cuts would make the challenge of making new programming "even more difficult in the future, but we will always try to offer our best shows in Christmas peak time".
Peak time is measured between 1800 and 2230 GMT.
Speaking at the BBC TV Christmas press launch, Linsey also defended festive repeats as long as they are "used carefully".
"Many people appreciate - or even expect - a chance to watch old favourites again," he said.
"So we should make no apology for giving viewers another chance to watch some classic BBC programmes and modern family favourites again, as long as they are used carefully and offered alongside a distinctive mix of new programmes, like we have this Christmas."
He said the Christmas schedule was proof positive of the licence fee's value for money.
"We know viewers have high expectations of the BBC - especially at this time of year - but consider what you get for your £12 of licence fee in December.
"You get all those brilliant TV programmes, but also our outstanding radio stations, our world class news and our superb online services. All, incidentally, for roughly the same price as it costs to download season seven of Keeping Up With The Kardashians."