Artistic director Luc Bondy dies at 67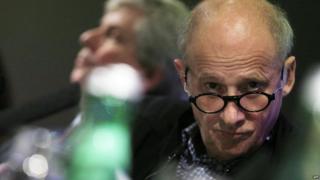 Luc Bondy, the international Swiss director of opera, theatre and film, has died of pneumonia, aged 67.
Bondy was renowned for his celebrated productions at some of the world's greatest venues, including La Scala.
He was also revered for his influence on the future visions of such venues, especially in his management roles as artistic director.
Paris's Odeon Theatre, which Bondy had headed since 2012, praised his "creative genius and erudition".
The venue's statement also highlighted Bondy's "love for the actors and the audience, his humanity and his liberty".
The New York Metropolitan Opera said Bondy's direction "was notable for its psychological insight, clarity, and vivid theatricality".
Bondy had been ill for much of his life, the newspaper Le Monde said. It added that the director had died on Saturday in Switzerland, where he had been staying for treatment since July.
As such, he had postponed his latest production of Othello at the Theatre de l'Odeon from January 2016 to the 2016-17 season.
Classic and modern
Born in Zurich to a Jewish family, Bondy was the grandson of the theatre director Fritz Bondy. His father was a journalist and intellectual.
The family moved to France when Bondy was still very young and there he came into contact with some of the most celebrated artistic figures of the time, including playwright Eugene Ionesco and writer Marguerite Duras.
Bondy began his career in Germany in the late 1960s and went on to become one of Europe's leading figures in the world of theatre and opera, in a career that spanned four decades.
As well as La Scala, he worked at the Paris Opera, the Salzburg Festival and Vienna's Wiener Festwochen, which he led until 2013.
He also directed opera in the US at the New York Metropolitan Opera and in the UK at the Edinburgh International Festival.
In theatre, Bondy worked on productions in Berlin, Frankfurt, Munich and London and elsewhere in Europe.
And in film, he made a number of productions that aired most commonly on French TV.
Bondy's theatre work ranged across the classic and the modern and saw him take on everything from Shakespeare to Samuel Beckett and Edward Bond.
Among those who paid tribute to Bondy was French President Francois Hollande.
"He exemplified by his personal story and his outstanding work the culture of Europe," said the president.
Austrian Culture Minister Josef Ostermayer called him "a special citizen of the world who worked at all the major stages...The theatre world has lost a member of the avant-garde and an artistic free spirit".