Zach Galligan hopes for role in new Gremlins film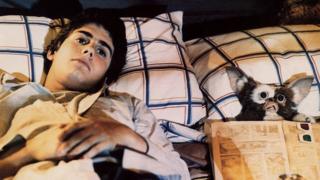 Gremlins star Zach Galligan says the new Gremlins movie in development will not be a reboot or a remake.
The 51-year-old American actor said there was "a decent chance" he'd appear in the next film.
Galligan was speaking ahead of a sold-out screening of Gremlins at London's Prince Charles Cinema on Wednesday night.
"The depth and the level of Gremlin love is palpable in the UK," he told the audience during a Q&A session.
The original 1984 horror-comedy and its 1990 sequel told the story of a cute creature named Gizmo which must be kept away from water and not fed after midnight to prevent it from spawning a brood of evil cousins.
Earlier this year, Deadline reported that Goosebumps writer Carl Ellsworth had been commissioned to write a new Gremlins film, which will be produced by the original film's writer Christopher Columbus, along with Steven Spielberg.
Galligan said: "It's not going to be a reboot. It will not be a remake in any way, shape, or form. Chris Columbus has come out and said that the first film is very near and dear to his heart and as long as he is alive it will never be remade.
"So the only thing they will be, and apparently are going to be doing, is something along the lines of like Jurassic World, where it will be 30 years later."
'Bigger now'
He said the film would refer to events in the first film and "some of the characters from the first one" would also reappear.
"I swear on my life, I don't know if I'm in it or not, but I think there is probably a decent chance since I'm one of the few people left standing from the first movie.
"Hopefully they won't use too much CGI, or the CGI will be really good like the Planet of the Apes movies, and hopefully we'll have some practical effects too."
Both Gremlins films starred Galligan and Phoebe Cates and were directed by Joe Dante.
"In some ways [Gremlins is] bigger now than it was back then due to the internet," Galligan added.
"It seems to still speak to people across the years. I think that's because the film's not very date specific. My hairstyle is maybe the most dated thing in the movie."