Theatre arrests over Death and the Maiden in Poland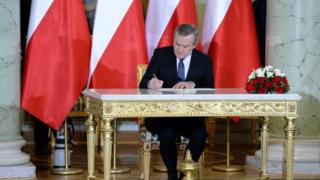 Twelve people have been arrested in Poland after trying to block the entrance to a theatre which was showing a play they deemed pornographic.
The play is based on the Nobel Prize-winning Austrian writer's Elfriede Jelinek book Princess Dramas: Death and the Maiden I-V.
Members of a Catholic organisation tried to stop people getting in.
The government's new culture minister, Piotr Glinski, had called for the show to be cancelled.
It premiered on Saturday at the Polski Theatre in Wroclaw.
Freedom of speech
A new conservative pro-Catholic government took power in Poland last Monday.
The theatre's website describes the play as being about the relationship between a torturer and victim.
The protesters in Poland said they objected to the presence on the stage of porn stars and sexually explicit scenes.
Glinski's opponents have said his attempt to stop the performance amounts to a violation of freedom of speech.
Theatre director Krzysztof Mieszkowski said he plans to file an official motion in parliament calling on Glinski to be removed from his post, but given the ruling party - Law and Justice party - has a majority in parliament, that is unlikely to succeed.
Mieszkowski also said that protesters threw eggs and tomatoes at his mother's home.