Director Hou Hsiao-hsien wins Golden Horse awards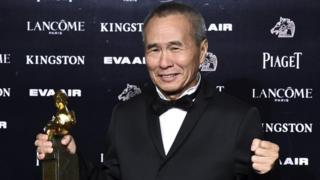 Veteran director Hou Hsiao-hsien's The Assassin has collected five awards at Taiwan's Golden Horse Awards, including best film and best director.
The Assassin (Nie yin niang), about a female trained killer, also won best cinematography and costume design.
The Golden Horse Awards, held in Taipei, recognise the best in Chinese-language cinema.
Taiwan's Hou has won awards around the world, including at this year's Cannes Film Festival.
The ceremony saw accomplished director Feng Ziaogang, who has been described as China's Steven Spielberg, win the best actor award for Mr Six, in which he plays a gangster attempting to rescue his son.
Karena Lam won the best actress award for Zinnia Flower (Bai ri gaobie), beating previous Golden Horse winner Shu Qi's lead role in The Assassin.
The best new director went to Bi Gan for his movie Kaili Blues (Lu bian ye can), a mystical tale of a doctor who discovers a place where time travels both forwards and backwards.