Iain Lee leaves BBC breakfast show over bigot row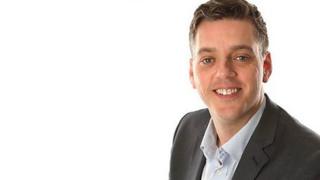 BBC presenter Iain Lee has left his BBC Three Counties Radio show.
The 42-year-old clashed on-air with a Christian lawyer, calling her a bigot, during a heated debate on homophobia.
Lee and the BBC later apologised, saying the interview was "at several points inappropriate".
The BBC has not confirmed reports Lee was sacked, saying he would "no longer be presenting his shows on the station" adding it wanted to "wish him well for the future".
The stand-up and former presenter of Channel 4's The 11 O'Clock Show interviewed Libby Powell, a lawyer from Christian Concern, a conservative Christian group that opposes LGBT rights.
She appeared on the show to defend a minister who was disciplined for reading out passages from the Bible condemning homosexuality during a recent service at a prison.
"His message was one of repentance from sin and as part of the verses he read, he did mention homosexuality as well as a host of other sins," she said.
Lee stated: "Homophobia is bigotry. Do you support bigotry?" to which Powell replied: "This isn't homophobia, this is God's word."
He went on to accuse Powell of not understanding what bigotry was.
Following the show, the BBC issued a statement to LGBT website Pink News apologising for any offence that may have been caused.
However, Lee wrote on Twitter: "I'm blocking so many people. I'll make it easy. If you think gays and lesbians are sinners, please unfollow me."
Several well-known names took to social media to defend the presenter.
LBC radio's Iain Dale said that Lee's treatment was a "disgrace" adding in a later tweet that "all he did was point out a truth".
Actress and comedian Kathy Burke, showed her support by suggesting Lee's change in situation should lead to a "bigger and better job".
Meanwhile atheist writer Richard Dawkins provided a link for his followers to counter-complain about Lee's "sacking".
Lee described the show on Twitter as "the best radio show I ever did. Enjoy it. Off to Bed. Night".