Homeless man denies attacking actress Pauley Perrette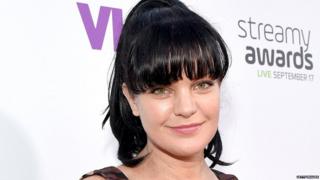 A homeless man has pleaded not guilty to attacking and threatening to kill NCIS actress Pauley Perrette.
David Merck, 45, was charged on Monday with false imprisonment by violence and making a criminal threat.
He could face up to four years in prison if convicted.
Perrette, who plays lab technician Abby Sciuto in the US drama - was attacked outside her Hollywood home on Thursday night, telling Twitter followers she thought she was going to die.
In a lengthy post, she said she was hit in the face several times and described her assailant as "psychotic", adding, "I am shaken and traumatised... I almost died tonight".
In her account of the assault, 46-year-old Perrette described Merck as a "a VERY psychotic homeless man".
"He grabbed me so forcefully, pinned my arm, punched me in the nose, forehead, repeatedly telling me he was going to kill me."
Perrette said her attacker "headed towards Hollywood Blvd, with murder in his eyes".
Her friend tracked down and followed the man until police arrived.
Los Angeles police officer Jane Kim confirmed the actress's account of the assault was accurate.
Perrette initially recalled how, as she lay collapsed on the ground, a man walked past with his dog "on his phone, annoyed. Did nothing."
However, she has since updated her Twitter page to say that she has spoken with that man and that they will now be "friends for life."
He told her that he thought she was a homeless person and that as a black man he felt approaching "a lone white woman could be dangerous for (him)."
The actress has been with the cast of NCIS since it began in 2003.
The CBS show, about the Naval Criminal Investigative Service, is the most-watched drama on US television.