Paris attacks: Bataclan owners have 'no words'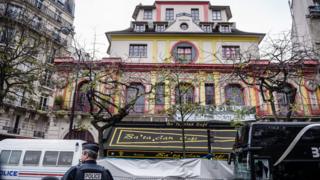 The owners of the Bataclan concert hall in Paris have said they have "no words" to express their sorrow following Friday's attacks.
Eighty-nine music fans were killed and more than 100 injured when gunmen fired into the crowd during a concert by US band Eagles of Death Metal.
"Our thoughts are with the victims, the injured and their loved ones," the venue wrote on Twitter.
It also thanked people for the support it had received since the attack.
"Many of you want to gather at the Bataclan but unfortunately the authorities are still working at the scene," the concert hall said.
"We will keep you informed on when that will be possible. We thank you for your support, it has deeply moved us."
Concert-goers were trapped in the venue before police stormed the building, shooting one gunman dead.
Eagles of Death Metal band members were unhurt but Nick Alexander, a Briton selling merchandise at the gig, was among those killed.
Mariesha Payne, from Perth in Scotland, was at the Bataclan with a friend at the time of the attack.
She told the BBC they had survived by running from the scene and hiding in a cellar for three hours.