La Scala technician strike halts Manon ballet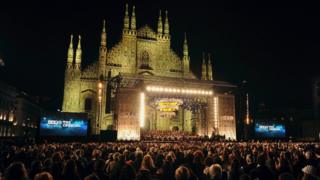 A strike by technical staff has shut down a performance of the ballet Manon at La Scala in Milan.
Staff shortages were blamed with the CGIL union urging members "to oppose the company philosophy of doing more with fewer resources".
The venue said a lack of technicians meant it could "not assure a safe performance for the artists".
A severe recession has led to arts funding cutbacks and disputes at other venues in Italy.
The Teatro dell'Opera di Roma was one such venue, seeing the loss of its conductor last year after he walked out following months of strikes.
The three-year recession and austerity policies in the country have also prompted workers' sit-ins in theatre lobbies and temporarily closed the gates of archaeological sites.
But La Scala, considered one of the world's most prestigious arts venues, has mostly managed to avoid major disputes, although a number of wildcat walkouts have occurred in the last few years.
Strike legislation
La Scala said it was "extremely pained" to cancel Thursday's performance and would try to find a solution to the problem.
"Despite all efforts the ballet L'histoire de Manon cannot be performed tonight because of the absence of the stage technicians," the venue announced on its website.
It added: "The Teatro alla Scala thanks the etoiles, the Corps de Ballet, the Orchestra, the conductor David Coleman and all those who have worked until the last minute to allow L'histoire de Manon to be performed. We apologise with the audience for the inconvenience."
It added that all those who had bought tickets for Thursday night would be reimbursed.
In 2012, La Scala cancelled the start of its ballet season due to a strike by performers. Chorus members in the production of Romeo and Juliet walked out over a request by the choreographer to perform dance moves along with the ballerinas.
The same year, the premiere of the ballet L'altra meta del cielo had to be called off due to industrial action and in 2011 an Austrian production of Beethoven's Fidelio was cancelled.
In September this year, Italy's prime minister Matteo Renzi passed legislation to limit strikes at cultural sites. It was prompted largely by the closure of Rome's Colosseum for a union meeting.
Tourists were left queuing outside the venue - one of Rome's major and most important attractions.