Laura Wade on Breakthrough Brits list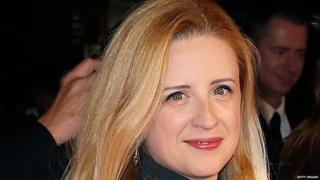 Playwright Laura Wade and Imitation Game star Alex Lawther are among those named on this year's Bafta Breakthrough Brits list.
Wade, whose play Posh was transferred to the West End from the Royal Court before being adapted into 2014 film The Riot Club, said "it feels brilliant".
Her latest project, a stage adaptation of Sarah Waters' novel Tipping the Velvet, has just finished in London.
Lawther played the young Alan Turing in last year's Imitation Game.
He also co-starred with Juliet Stevenson in the film Departure.
A jury of industry experts including Julie Walters, Star Trek Into Darkness actress Alice Eve, Kidulthood's Noel Clarke and Broadchurch screenwriter Chris Chibnall selected those who have been making a name for themselves in the worlds of film, television and gaming.
Actress Walters said it was "vitally important to support the next generation of talent".
Screenwriter Tess Morris, who wrote the romantic comedy Man Up, starring Simon Pegg, Lake Bell and Rory Kinnear, was also named a Breakthrough Brit.
Actress Letitia Wright also makes the grade - she recently appeared in Russell T Davies's Cucumber and Banana on Channel 4 and E4, as did actress Charlie Covell.
Catherine Woolley, a 28-year-old games designer recently worked on Alien: Isolation which has sold more than one million copies.
She told BBC Newsbeat it is "massively important" that Bafta pays attention to gaming.
"Millions of people all over the world play games every day and it's great that we get that recognition," she added.
'Terrified, humbled'
Producer director Daisy-May Hudson, who works for Vice, and filmed her experiences living homeless for the documentary Half Way and Jenny Saunders, who co-developed and produced BBC One documentary, Baby P: The Untold Story, are also named.
Saunders said: "I am terrified, humbled and excited... I can't wait to see where this leads."
Actress Aysha Kala who starred in Channel 4's hit drama Indian Summers, games developer Chris Davis and actor Martin McCann who appeared in X+Y and '71 are also among those named on the list.
Amanda Berry, OBE and chief executive of Bafta, said as well as showcasing new talent, the scheme aimed to inspire and support them through mentoring.
"I'm particularly pleased there are so many female Breakthrough Brits this year, and from a variety of specialisms including cinematography, games design and sound where women are often under-represented," said Berry.
Previous names listed by Bafta include Eddie Redmayne and This is England creator Shane Meadows.