Urban Cookie singer Diane Charlemagne dies at 51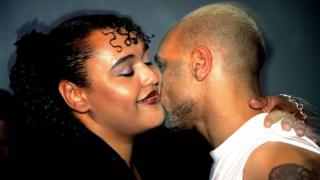 Singer Diane Charlemagne has died at the age of 51 after a long battle with cancer.
Charlemagne was best known as a member of British techno/house group Urban Cookie Collective, whose biggest hit was 1993's The Key: The Secret.
She also featured on British singer Goldie's tracks, including Inner City Life from 1994.
Goldie tweeted: "I can't thank you enough for what you contributed and we will carry on your legacy."
He later added: "Just come out of #bikram #mourning... and finding a place of peace inside myself of how much light that woman bought [sic] to my music.
"Love to her family ... #blessed."
British singer Beverley Knight said: "Goldie's Inner City Life changed the direction of Drum&Bass due to #dianecharlemagne's haunting soul vocal. RIP Angel. Xxx"
Despite her illness, Manchester-born Charlemagne had carried on recording and was working on material for release later this year.
Her Blue Soap Music representative said: "Diane passed away this afternoon surrounded by her family after losing her brave battle with cancer.
"Her last record It's In Your Eyes, featuring Andy Rourke of The Smiths and remixed by Youth, will go ahead on 20 November as planned, with the proceeds going to Diane's family."
Charlemagne found fame in the 1980s singing with the British funk band 52nd Street, before joining Urban Cookie Collective in the 1990s.
She was lead vocalist on many of their tracks, including The Key: The Secret, which reached number two in the UK charts, and Feels Like Heaven, which went to number five. She also co-wrote some of the group's tracks.
At the same time, Charlemagne worked with British singer Moby's live band, Welsh drum and bass producer High Contrast and British band D:Ream among others.
Moby tweeted: "So sad to hear about #dianecharlemagne passing.
"We worked together for years, and she was one of the most remarkable singers on the planet."
High Contrast said: "Very sad to hear of Diane Charlemagne's passing, she'll always be the voice of dnb to me, so privileged to have known and worked with her x."
Radio 1's Annie Mac played Inner City Life on her show in tribute to Charlemagne.