Great Scott! It's Back to the Future Day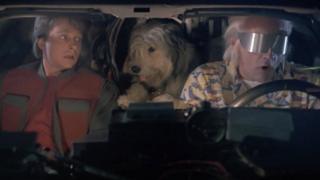 Today is Back to the Future Day. Social media and movie fans worldwide are celebrating 21 October 2015 which is the date Marty McFly and Doc Brown visited in the 1989 sci-fi time adventure sequel Back to the Future II.
#BackToTheFuture and #bttf are trending on social media sites. Fans are discussing the cult film on Facebook and Twitter.
Savvy brands have rolled out gadgets and gimmicks by tapping into the interest in the movie trilogy. We have rounded up some of the best social media reactions and some of your pictures.
Even the British Prime Minister, David Cameron, has tried to use Back to the Future to make a jibe at his opponent, Jeremy Corbyn:
Look what we dug up from the archives! Although technically today is about Back to the Future II, the BBC Archives have reminded us of Film 85 presenter Barry Norman sharing his verdict on Back to the Future - the first - when it was first released in 1985.
The London Fire Brigade has used the Back to the Future Day to warn owners of self-balancing scooters - also known as 'hoverboards' not to leave them charging unattended after two 'hoverboards' burst into flames recently.
Great Scott! Ayrshire Police in Scotland said they received reports of "a suspicious vehicle causing concern".
Queensland Police released a spoof statement about its new "hoverboard unit".
Richmond Police Station in south west London tweeted that anyone who wants to emulate Marty McFly's driving antics could find themselves on the wrong side of the law.
Even the Department of Work and Pensions got in on the act with a tweet reminding people about workplace pension.
Jeremy Gogan, from Jersey, shared us the picture of his Back to Future memorabilia with us. He said he will sit down with his children this evening to watch the "best movie of all time".
Joey Uzo spotted this iconic DeLorean car on his way back from a late lunch break. He pulled out his camera and "took a couple of snaps."
---
Let us know how you'll be celebrating Back to the Future Day. How have the films influenced your life? Do you drive a DeLorean?! Share your stories by emailing haveyoursay@bbc.co.uk.
Please include a contact number if you are willing to speak to a BBC journalist. You can also contact us in the following ways: