Spoof Ladybird books target adult market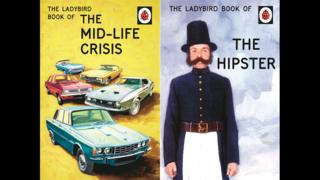 A series of adult tongue-in-cheek Ladybird books by the co-writers of TV's Miranda, with titles such as The Shed and The Wife, are to be published.
The eight books have been written by Jason Hazeley and Joel Morris, who have also written for comedy show That Mitchell and Webb Look.
The titles include The Shed, The Wife, The Husband, The Hangover, Mindfulness, Dating and The Hipster.
The pair also wrote for Charlie Brooker's Screenwipe.
Brooker said: "This is such a good idea I'm currently experiencing all the physical sensations of anger because I didn't think of it, whereas Jason and Joel did."
Hazeley tweeted a quote from The Hipster, which said: "This is a hipster. He is childless, unaccountably wealthy, and always well turned out. He likes art, porridge, scarves, and anything reclaimed from French factories, like this dog rack."
BBC Entertainment Live: News updates
The books also include original Ladybird-style artwork to accompany the new text.
Ladybird is celebrating its 100th birthday this year.
The original hardback books, sold at 2/6d for almost 30 years, have become a nostalgic favourite in recent years for the children who have now grown up and are buying them for their own children.
And while the revival in interest in Ladybird has spawned a number of unauthorised parodies for adults on the internet, this is the first time official Ladybird books for adults will be published.