Brian Blessed: I delivered a baby in a park in the 1960s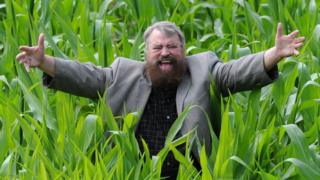 Actor Brian Blessed has recounted how he helped deliver a baby in the 1960s - and bit through the umbilical cord.
The larger-than-life star, known for Flash Gordon and Z Cars, said he came across a woman in labour while visiting London's Richmond Park in "about 1963".
"I was running all over Richmond Park and a woman was having a baby under a tree and there was nobody around.
"I'd been brought up with babies and helping with babies, and I rushed across to her," he told BBC Radio 4.
He continued: "She'd got her legs open. She knew me from Z Cars and said 'please, Mr Blessed, I'm having a baby.'
"[I said] 'it's all right dear, breathe deeply,' and gradually I got the baby out. The afterbirth came out and the clots. I got rid of the clots. Pressed her belly and got rid of the clots. And then I got the afterbirth out.
"And then I bit it loose, and then I tied it into a knot etc. I just called for help and eventually an ambulance came. I was covered in blood, my shirt was covered in blood.
"I was wrapping her, wiping her, 'It's all right darling,' and I was licking the baby's face."
The actor was speaking to an incredulous Libby Purves, the host of Radio 4's Midweek programme.
"It's absolutely true," he said. "I've never talked about it. What I'm saying is, it was natural. I'd seen my mother do all this. I was always kept in the background."