Emmy Awards attracts smallest-ever TV audience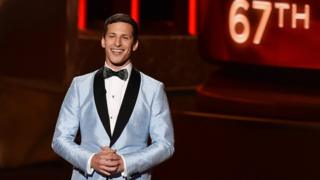 Sunday night's Emmy Awards ceremony was watched by a record low of 11.9 million viewers on US television, down nearly 4 million compared to last year.
The 2014 awards were seen by 15.6 million, but aired on a Monday and did not have to compete with an NFL game.
Previous lows include 12.3 million in both 1990 and in 2008, according to Nielsen figures published in Variety.
HBO drama Game of Thrones dominated Sunday's ceremony, winning a record-breaking 12 awards.
Among its biggest awards were best drama series and best supporting actor for Peter Dinklage, who plays Tyrion Lannister.
Other winners at the Los Angeles ceremony included Mad Men's Jon Hamm, who won best actor in a drama, and Viola Davis who made history as the first black woman to win lead actress in a drama for her role in How To Get Away With Murder.
The Emmys still proved a popular subject on social media though, generating more than 1 million tweets and 14 million Facebook interactions - with Davis's victory the most talked-about moment of the night.
Political comedy Veep, Amazon's transgender comedy Transparent, mini-series Olive Kitteridge and sketch show Inside Amy Schumer were among the evening's other winners.
The ceremony, hosted by comedian Andy Samberg for the first time, failed to attract the kind of audiences this year's other big awards ceremonies have enjoyed.
The Oscars was seen by 37.3 million people, while 24.8 million watched The Grammys and 19.3 million tuned in for the Golden Globes.