Thrillers The Perfect Guy and The Visit share honours at US cinemas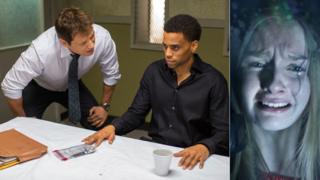 Thrillers The Perfect Guy and The Visit shared the honours at North American cinemas this weekend, coming first and second at the US and Canada box office.
The Perfect Guy, about a newly single woman whose new boyfriend is not all he seems, topped the chart with a first weekend tally of $26.7m (£17.3m).
But M Night Shyamalan's latest nail-biter was not far behind, taking $25.6m (£16.6m) between Friday and Sunday.
The films' success has been attributed in part to a strong female turn-out.
An estimated 69 percent of The Perfect Guy's audience were women, while The Visit's audience was 60 percent female.
With its three black stars - Sanaa Lathan, Michael Ealy and Morris Chestnut - The Perfect Guy continues the recent trend for chart-topping films with African-Americans in leading roles.
Prayer-based film War Room and Straight Outta Compton, a biopic of rap group NWA, were the previous occupants of the number one berth.
The Visit represents a comeback for Sixth Sense director Shyamalan, whose last film was the critically savaged 2013 sci-fi opus After Earth.
Produced by Blumhouse, the studio that made the Sinister and Paranormal Activity films, The Visit tells of a brother and sister who make an unsettling revelation at a remote Pennsylvania farm.
War Room dropped to third place with a second weekend haul of $7.4m (£4.8m), while Robert Redford's A Walk in the Woods dropped one place to four.
This week's top five is rounded out by Tom Cruise's fifth Mission: Impossible film, which has now made almost $613m (£398m) at the worldwide box office.