Singer Steven Wilson crowned prog rock king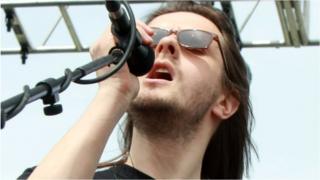 Singer and guitarist Steven Wilson has been crowned the current king of prog rock after winning three prizes at the Progressive Music Awards in London.
Wilson fronts the band Porcupine Tree and has now found solo success with his album Hand. Cannot. Erase.
It won the awards for album of the year, commercial breakthrough and box set design.
Swedish metal veterans Opeth won best band, while Genesis keyboard player Tony Banks was named "Prog God".
Pink Floyd had three nominations but won nothing for their album The Endless River, based on unreleased material from sessions for their 1994 album The Division Bell.
'Tour de force'
The Progressive Music Awards, in their fourth year, were handed out by Prog Magazine at Shakespeare's Globe Theatre's Underglobe.
Wilson triumphed after reaching number 13 in the UK album chart with Hand. Cannot. Erase. That gave him his highest chart position either as a solo artist or with Porcupine Tree.
He is also due to play two nights at London's Royal Albert Hall later this month.
In a five-star review in February, The Guardian described him as "modern progressive rock's undisputed figurehead" and said he had made a "smart, soulful and immersive work of art".
Classic Rock magazine, meanwhile, described it as "a tour de force of experimental music making".
Progressive Music Awards - full list of winners:
Limelight (for up-and-coming bands): Heights
Live event: Marillion Weekends
Vanguard (for acts who deserve wider recognition): Purson
Anthem: Public Service Broadcasting - Gagarin
The Storm Thorgerson grand design (box set design): Steven Wilson - Hand. Cannot. Erase.
Album of the year: Steven Wilson - Hand. Cannot. Erase.
Band of the year: Opeth
Commercial breakthrough: Steven Wilson
Outer Limits: Roy Wood
Virtuoso: Danny Thompson
Guiding light: Roger Dean
Visionary: Bill Nelson
Lifetime achievement: Gentle Giant
Prog God: Tony Banks