Steven Spielberg's DreamWorks Studios 'to split from Disney'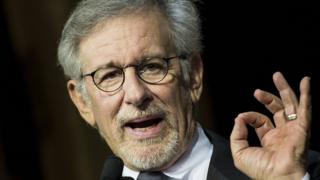 Steven Spielberg's DreamWorks Studios is to end its distribution partnership with Disney next year, according to Hollywood reports.
DreamWorks Studios' films include War Horse and Lincoln. Its productions are currently distributed and marketed by The Walt Disney Company.
But The Hollywood Reporter and Variety said DreamWorks would not renew the deal when it expires next August.
DreamWorks is likely to do a deal with Universal instead, the reports claimed.
Spielberg founded DreamWorks with Jeffrey Katzenberg and David Geffen in 1994, and the studio made hit movies including Saving Private Ryan, American Beauty and Gladiator.
Disney has distributed its productions since 2009. Spielberg's adaptation of Roald Dahl's The BFG, which is due to be released next July, is likely to be the final film to be released under the deal, according to the reports.
The next DreamWorks Studios film to be released will be Tom Hanks' Cold War thriller Bridge of Spies, also directed by Spielberg, which comes out in the US on 16 October.
DreamWorks Animation, which made the Shrek, Kung Fu Panda and How to Train Your Dragon series, became a separate company in 2004.