Top Gear: BBC Two boss 'excited and terrified' about future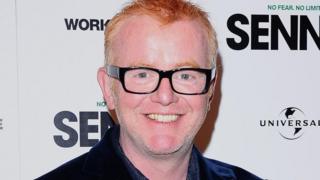 BBC Two controller Kim Shillinglaw has said she is "really excited" but also "terrified" about Top Gear's future with Chris Evans as presenter.
Speaking at Edinburgh TV Festival she revealed the hit car show's next series would be "really different", following the departure of Jeremy Clarkson.
Shillinglaw said she could not think of a better person than Evans, with his passion for cars, to front the show.
She also said Clarkson's controversial exit had been "a very sad episode".
Shillinglaw told an audience at the festival that she would always be "fond" of Clarkson and his co-presenters Richard Hammond and James May and had "great respect for their craft skills."
Clarkson's BBC contract was not renewed following a "fracas" involving a producer on the Top Gear team. Since then he, May and Hammond have since signed a lucrative deal to front a motoring show for Amazon Prime.
"At the end of the day it's about human beings," said Shillinglaw, "and I think it was just a very, very human situation. I am, and always will be, fond of Jeremy, James and Richard."
She said it was all "very sad" but showed that sometimes "human beings are bigger than telly".
'Scary but exciting'
Shillinglaw said Evans' passion for cars was "so important to Top Gear". Speculation has been rife about who may join him when the show returns to BBC Two, from Formula One star Jenson Button to Jodie Kidd, but nothing has yet been confirmed.
"There will be continuity but it will be really different," she said. "There will be some changes, and it's scary, but it's really exciting."
Earlier this week, the BBC's director of TV Danny Cohen said Evans' enthusiasm for the show was "boundless" and that he was working on it "daily" as they started to prepare the filming trips.
"I think he's very respectful of the show's heritage but he wants to bring new ideas to it and he's working incredibly hard. He's in the office, he's full of ideas."
Cohen said he would be presenting with "lots of different people" but nothing would be revealed until the autumn.
The Top Gear team said it had received thousands of video entries from members of the public around the world, in response to Evans' idea they look for new presenting talent.
A statement added: "We're currently whittling down a shortlist to meet The Stig."