Strictly Come Dancing: Ainsley Harriott and Kellie Bright join line-up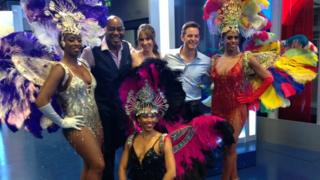 Celebrity chef Ainsley Harriott and EastEnders actress Kellie Bright have joined the line-up for the next series of Strictly Come Dancing.
Harriott presented the BBC One cookery show Ready Steady Cook for 16 years, while Bright is best known for playing Linda Carter on the BBC One soap.
They will join Radio 2 presenter Jeremy Vine, who was revealed as the first contestant on Monday.
The 13th season of BBC One's Strictly starts in September.
Harriott, 58, said: "I must admit that I do love to dance, but doing it in front of the nation is a whole different matter.
"In my day job the only type of salsa I know about is the one in my recipes, so I am looking forward to rising to the challenge. Bring it on!"
Speaking about his rival, Harriott said Jeremy Vine had a "wonderful discipline about him".
He added: "When it comes to dancing it is about the discipline and how much effort you put in. If you put the time in then you can be a bit more expressive."
'Give it a good go'
Bright said: "One reason I wanted to do it is because I'm going to be 40 next year. I thought well actually at this point in my life to be the fittest I've ever been, or to certainly give it a good go, is a great thing and it will be challenging.
"I just want to see what my body can still do, you know what I mean, before it all goes kaput."
The other contestants taking part will be announced over the next few weeks. Last year's competition was won by X Factor presenter Caroline Flack.