Controversial Islamic State play cancelled before opening night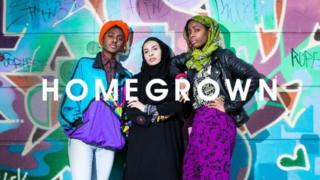 A controversial play exploring the radicalisation of young people has been cancelled 10 days before its opening night, amid claims of censorship.
Homegrown was due to be staged at a London school from 12 August, but the National Youth Theatre production was shelved last week.
The creators claim it was due to external pressures and that "voices have been silenced".
However, the NYT said the play failed to meet its standards.
"After some consideration, we have come to the conclusion that we cannot be sufficiently sure of meeting all of our aims to the standards we set and which our members and audiences have come to expect," the theatre said.
'Didn't see it coming'
Director Nadia Latif and playwright Omar El-Khairy say they were given no prior warning about the play's cancellation, which was inspired by the London schoolgirls who travelled to Syria to join Islamic State in February.
With a cast of 112 people aged 15 - 25, who were mostly from ethnic minorities, the play was to explore the motives of radicalised teenagers and attitudes to Islam in the UK.
"We got an email on Thursday night saying the show was cancelled, rehearsals are done, and the cast were told on Friday morning," they told The Guardian.
"This show was about having an intelligent conversation around an issue that has hysteria attached, and instead voices have been silenced with no explanation and without the content ever being seen because of this landscape of fear that we live in."
The production previously encountered trouble in June when it was forced to move from the first school it was scheduled to play in - less than a mile away from the Bethnal Green school in east London attended by the missing schoolgirls - after Tower Hamlets council expressed concerns it would be "insensitive".
Latif and El-Khairy claim they were told last month that police wanted to view the final script and considered putting plain clothed officers in the audience.
The Metropolitan Police is yet to respond to a BBC request for a comment.
The writers say the script had been approved by the NYT and at no time were quality concerns raised.
"Voices have been silenced here, there is no doubt about that and I just feel like in order to make the decision to cancel it, something very extreme must have been happened," El-Khairy added.
A number of young actors who were due to star in the play tweeted their frustration at its cancellation, using the hashtag #JeSuisHomegrown.
Quasim Mahmood said: "Censored. Our voices were silenced today."
Marilyn Nadebe wrote: "I cried my annual supply of tears, mourning what could have been."
David Hall added: "I don't know how anything can ever change when we are too scared to say the things that need to be said."