London arts and theatre scene most googled in the world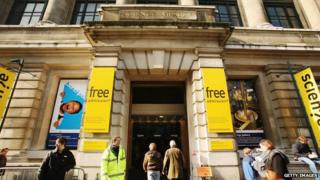 London has been named the most googled city in the world for its art galleries, performing arts and innovative design.
The capital's museums make up the top three most googled museums in the world, with the Science Museum leading the results.
The research was carried out to launch London's Autumn Season of Culture.
It also stated that the Natural History Museum was the second most searched-for and the British Museum was third.
The New York Metropolitan Museum of Art and the Smithsonian Museum in Washington DC, followed in the findings.
The research was carried out by London & Partners, the London mayor's official promotional company.
The director of the Science Museum, Ian Blatchford, said: "It's fantastic that so many people across world are seeking out the Science Museum, and this new data provides yet more evidence of the world class status of British museums."
London Mayor Boris Johnson added that "London is without a doubt the cultural capital of the world".
London's theatres also generate more searches than those in any other city, and the capital is the most searched for city in the world to visit, figures show.