Van Alexander, US bandleader turned composer, died aged 100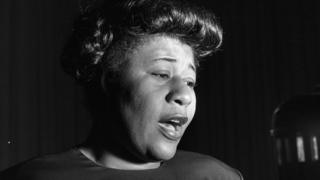 Van Alexander, the 1940s US bandleader who became a prolific film and TV show composer, has died aged 100.
According to Variety, the conductor and author died of heart failure on Sunday in a Los Angeles hospital.
Alexander played an important role in Ella Fitzgerald's career, co-writing her first big hit, the nursery rhyme-inspired A-Tisket, A-Tasket, in 1938.
He went on to write and arrange music for Bewitched, I Dream of Jeannie and The Dean Martin Show.
Born Alexander Feldman in New York in May 1915, Van Alexander was taught to play the piano by mother, a classical pianist.
Hired to write arrangements for Chick Webb's big band orchestra, he went on to form his own band in the late 1930s.
After moving to California in 1943, Alexander found a new outlet in underscoring - the provision of background music for film and TV productions.
His work on Mickey Rooney's TV show led him to compose music for a number of the actor's films, among them 1957's Baby Face Nelson.
In the 1970s, he was nominated for three Emmys for his work on such TV variety shows as Gene Kelly's Wonderful World of Girls.
Alexander won a lifetime achievement award in 2002 from the American Society of Composers, Authors and Publishers, otherwise known as Ascap.
His 100th birthday was marked in May by a celebration attended by more than 200 family members and friends, at which he said his "wonderful life" had been "blessed".
"It's been a night to savour, I had so much fun," he joked to the audience in a light-hearted poem that concluded with the lines: "I'm going to try for 101."
Alexander, whose wife Beth died in 2010, is survived by two daughters, four grandchildren and 14 great-grandchildren.