A Clockwork Orange actor Aubrey Morris, dies aged 89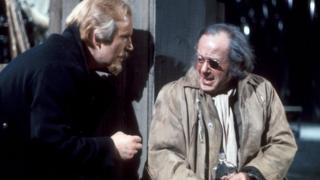 British actor Aubrey Morris, best known for playing probation officer Mr Deltoid in Stanley Kubrick's 1971 film A Clockwork Orange, has died aged 89.
He also had roles in cult horror film The Wicker Man, Lisztomania and Woody Allen comedy Love and Death during his five decade career.
Morris's agent confirmed the actor had died on Wednesday.
His many TV credits include The Saint, The Sweeney, The Prisoner, The Avengers and BBC drama Cold Comfort Farm.
Morris played the gravedigger in Robin Hardy's 1973 film The Wicker Man, which starred Edward Woodward and Sir Christopher Lee.
He also appeared alongside Roger Daltrey in the 1975 comedy Lisztomania, about composer-pianist Franz Liszt, and had a role in My Girl 2 with Dan Aykroyd and Jamie Lee Curtis.
Morris was born in Portsmouth, Hampshire in 1926, one of nine children, and studied at Portsmouth Municipal College before winning a scholarship to the Royal Academy of Dramatic Art in London.
His stage debut was in The Winter's Tale at London's Regent's Park in 1944 and his first TV appearance came when the BBC restaged Fly Away Peter in 1948, after he had appeared in the West End version.
He spent two years at the Old Vic, from 1954 to 1956, and had theatre roles on Broadway.
Writing in The Guardian's obituary, Gavin Gaughan said: "Adept at the vaguely camp and suggestively sinister, Morris always left an unconventional stamp on even the smallest, and seemingly conventional, roles."
His other TV appearances included The Molly Wopsies, Ripping Yarns and Catweazle, while more recent parts include Chesterton in Deadwood and his final acting role earlier this year in US comedy It's Always Sunny in Philadelphia.