Top Gear: Jeremy Clarkson's final episode scheduled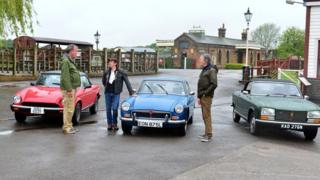 Jeremy Clarkson's final appearance on Top Gear will be shown on 28 June, it has been announced.
The episode will be a 75-minute edition, airing at 20:00 BST on BBC Two, to conclude series 22.
It will be made up of two films shot before Clarkson was suspended from the show and eventually sacked, with co-hosts Richard Hammond and James May presenting links from the studio.
Last week the BBC trailed the episode, with a 30-second teaser.
The BBC said the first film will see the three presenters "immerse themselves in the lifestyle of the traditional classic car enthusiast".
The second will follow the trio "try to become leisure enthusiasts with the help of some cheap lifestyle leisure vehicles".
The BBC has yet to decide on Top Gear's future following Clarkson's sacking, after he punched a producer while on location.
There has been speculation that the show could return with a different guest host every week, in a similar style to BBC One's satirical quiz show Have I Got News For You.
It was reported earlier this month Hammond and May had been offered £1m deals to stay with the BBC, however both have yet to sign new contracts.