Ofcom clears Kay Burley over 'aggressive' Alton Towers interview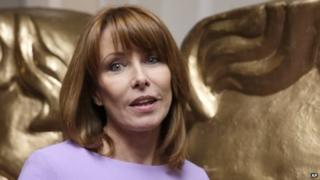 Ofcom says it will not investigate Sky News over Kay Burley's interview with the head of Alton Towers, despite almost 2,000 complaints.
People were upset at the journalist's approach while speaking to Nick Varney about an accident on the park's Smiler ride that left 16 people injured.
Many felt her questions - about park safety and the extent of the victims' injuries - were too aggressive.
A 17-year-old had her leg amputated following the crash.
Four other passengers were seriously injured when a carriage full of passengers on the 14-loop roller coaster collided with an empty one.
The incident, on 2 June, resulted in the Staffordshire theme park closing for six days.
In her interview, broadcast three days after the accident, Burley pressed Varney - the chief executive of Merlin Entertainment - to reveal whether a report one of the victims had lost a leg was true.
"We are deeply sorry for the accident that happened," he said.
Burley replied: "I'm sure they are not interested in your sympathy at this stage. They went to have a fantastic day and they have potentially lost a limb. You won't tell us if they have or not."
He responded: "With all due respect, to be telling you stuff like that… That is absolutely personal information to those individuals and their families."
A petition to have Burley sacked over the incident has now gained more than 50,000 signatures.
Ofcom received 1,816 complaints over the interview but said: "We have carefully assessed whether this interview exceeded generally accepted standards.
"In our view, the interviewee was able to respond fully to the questions and put his position across. As a result, we have not taken the matter forward for investigation."
Responding to complaints immediately after the broadcast, Burley tweeted: "For those concerned I was hard on Alton Towers boss, he'll get over it. Not sure those on his ride will be so quick to recover ."