Bill Cosby sued by Janice Dickinson for defamation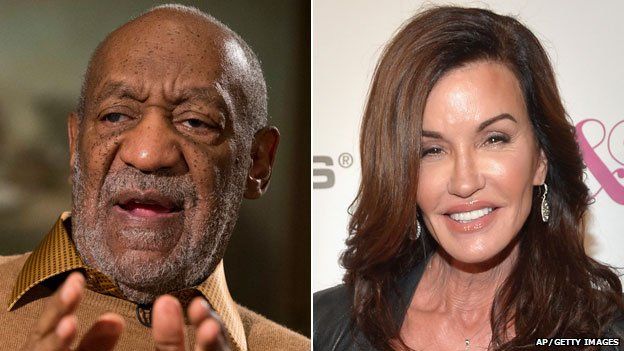 Janice Dickinson is suing Bill Cosby for defamation, alleging Cosby falsely labelled her a liar after she claimed he sexually assaulted her in 1982.
Last year, the model and TV presenter claimed Cosby drugged and raped her in a hotel in Lake Tahoe 33 years ago.
In her defamation complaint, Dickinson claims Cosby chose "to vilify and publicly attack" her in his denials.
More than 40 women have accused Cosby of sexual assault. He has never been charged for any of the alleged crimes.
Dickinson's 13-page complaint, filed in Los Angeles County Superior Court earlier this week, seeks unspecified damages for defamation, false light and intentional infliction of emotional distress.
In a TV interview last November, Dickinson recounted how she had been sexually assaulted after having dinner with Cosby - then at the height of his fame as Dr Cliff Huxtable in The Cosby Show.
Speaking at the time, Cosby's lawyer, Martin Singer, labelled Dickinson's allegations as "false and outlandish".
Cosby released statements disputing Dickinson's claims, including the comment: "Ms Dickinson completely fabricated the story of alleged rape."
Dickinson's legal action claims her business prospects are suffering from what she considers a humiliation.
"Cosby knows that he drugged and raped Ms Dickinson,'" the complaint states. "He knew that calling her rape disclosure a lie was a false statement."
It states Dickinson sought a retraction of the denials from Cosby, but the request was denied.
"This is Janice Dickinson's chance for justice,'' her lawyer, Lisa Bloom, said on Wednesday.
The 60-year-old model, who appeared on I'm A Celebrity... Get Me Out of Here in 2007, also starred in her own reality TV show, The Janice Dickinson Modeling Agency, which ran from 2006 to 2008.
Dickinson's case echoes that of Therese Serignese, one of three women who have accused Cosby of abuse and have sued him for defamation in a Massachusetts federal court. Earlier this month, Serignese said she wanted her reputation restored after Cosby's representatives branded her a liar.
The statute of limitations to criminally prosecute Bill Cosby has long since passed, as has the statute on civil claims directly related to the incident.