'Impartial' UKIP drama cleared by Ofcom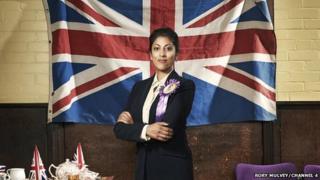 A Channel 4 docudrama that imagined a future where the UK Independence Party won the general election has been cleared by broadcasting watchdog Ofcom.
UKIP: The First 100 Days generated more than 6,000 complaints following its broadcast in February and was called "biased" by party leader Nigel Farage.
After an investigation, however, Ofcom ruled it was "not misleading" and had been "duly impartial".
The show, it said, had been "clearly presented as a fictional drama".
"The depictions of UKIP policy were closely based on the party's recent announcements, in particular on immigration and the EU [European Union]," the media regulator went on.
The programme had also included "numerous statements, both from archive clips and from actors, who expressed support for UKIP and its policies."
The Channel 4 drama mixed real news footage with fictional scenes involving a newly elected UKIP MP, played by actress Priyanga Burford.
It also depicted rioting in the wake of the UKIP election victory and the establishment of a new "National Pride Day".
An Ofcom spokesman said it had "carefully investigated this dramatisation of what the first 100 days under a UKIP government would be like and has found the programme did not breach the Broadcasting Code".