David Lynch rejoins Twin Peaks cult classic revival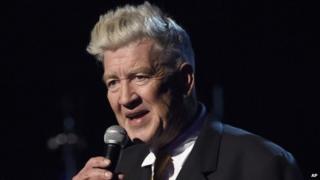 Film Director David Lynch has announced that he will direct the sequel of the cult classic Twin Peaks after a month-long deadlock over budget concerns.
The surrealist filmmaker made the announcement on Twitter.
The US television network Showtime said last year that the series, based on a small-town murder in Twin Peaks, would return as a limited series in 2016, 25 years after its last airing.
But in April Mr Lynch said there was not enough money for him to take part.
Writing on Twitter at the time, he said he had not been given enough money "to do the script in the way I felt it needed to be done".
But on Friday he tweeted: "Dear Twitter Friends, the rumours are not what they seem ..... It is!!! Happening again. #TwinPeaks returns on @SHO-Network."
Showtime president David Nevins on Friday confirmed the news: "Totally worth the extra brewing time and the cup is even bigger than we expected," he said in a statement.
"David will direct the whole thing which will total more than the originally announced nine hours. Preproduction starts now!!"
Correspondents say that Mr Lynch's apparent about-turn has been celebrated by diehard fans - and by Twin Peaks star Kyle MacLachlan, - who played FBI Agent Dale Cooper in the original series and is tipped to reprise his role.
"Welcome back again!! #TwinPeaks Special Agent Dale Cooper! on #Showtime #damnfinecoffee," Mr MacLachlan tweeted.
Mr Lynch, whose credits include Blue Velvet and Mulholland Drive, created the cult drama with Mark Frost in the early 1990s.
Revolving around the murder of teenage schoolgirl Laura Palmer, the show was a precursor of dense, cinematic TV shows like The Sopranos and The Wire.
It won three Golden Globe awards in 1991, including best TV series and best actor for Kyle MacLachlan.