Female shortlist for Desmond Elliott debut novel prize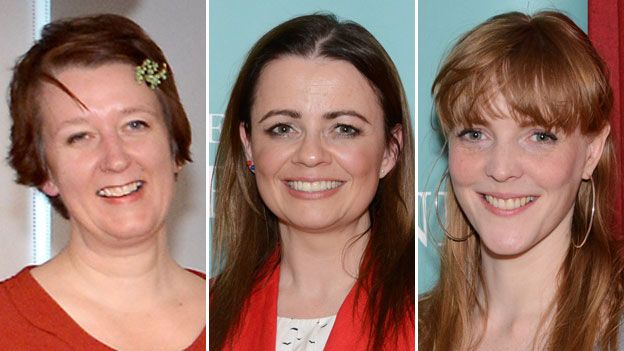 A woman who wrote her first novel in her 40s has been shortlisted for the Desmond Elliott Prize for new fiction.
Claire Fuller's Our Endless Numbered Days is up against Elizabeth is Missing by Emma Healey and A Song for Issy Bradley by Carys Bray.
This year's all-female line-up was chosen from a long-list of 10 books by British and Irish novelists.
The £10,000 annual prize was set up in memory of the celebrated literary agent to enrich the careers of new writers.
"Our shortlist shows that there's no age limit on being a sparkling new arrival on the literary scene," said chairwoman of judges Louise Doughty.
Fuller, 48, originally studied sculpture at Winchester School of Art, and ran her own marketing company for 23 years before she began writing fiction at the age of 40.
Our Endless Numbered Days tells the story of an eight-year-old girl who is kidnapped by her father and taken from London to a cabin in a remote European forest.
Healey, the youngest of the shortlisted authors at 29, won the Costa first novel award for Elizabeth is Missing, a best-selling mystery about an elderly sleuth struggling with dementia.
Bray, 39, teaches creative writing and is completing a PhD. Five years ago she and her husband decided to remove their family of six from the Mormon faith.
A Song for Issy Bradley is an account of a family negotiating a personal tragedy in a devout Mormon community.
"It's fascinating to see that each writer arrived here from slightly unorthodox beginnings and it's a testament to the Desmond Elliott Prize that it identifies and rewards the very best new writing talent, whatever the author's date of birth," Doughty said.
"Contrary to the popular myth of gilded youth producing all our great works, literary history is strewn with late starters: William Golding published his first novel at the age of 44 and went on to win the Nobel Prize for Literature."
The 2014 winner was Eimear McBride, author of A Girl is a Half-formed Thing. Other past winners include Grace McCleen, Anjali Joseph, Edward Hogan and Ali Shaw.
The winner will be revealed at a ceremony at Fortnum & Mason on 1 July.
Related Internet Links
The BBC is not responsible for the content of external sites.