BBC drama at 'a tipping point' with licence fee cuts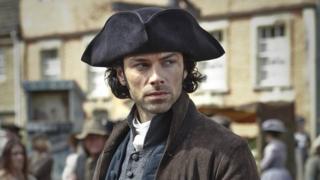 The BBC will be forced to slash its drama output if the licence fee is cut, according to the man who commissioned hits like Poldark, Sherlock, Call the Midwife and Wolf Hall.
Outgoing controller of drama commissioning Ben Stephenson said the broadcaster was at a "tipping point".
He told the Radio Times: "There will be less drama and fewer jobs. It doesn't make sense on an economic level."
"We do need to increase the licence fee," added Stephenson.
The fee is currently capped at 2010's sum of £145.50 until 31 March 2017, but Stephenson said freezing was the same as cutting the fee when you factored in inflation.
"It really can't keep cutting... And the truth is the market isn't going to fill the gap," he said.
The commissioner, who is also credited with acclaimed dramas The Missing, Line Of Duty and The Fall, said the quality of British television was at stake.
"Someone invented the TV but it was the BBC that invented British television," said Stephenson.
"You can't just pull the rug from under that and think that nothing is going to change. And the BBC will be the poorer for it."
Stephenson, who is moving to a new job in the US with Star Wars director JJ Abrams' company Bad Robot, was speaking just before John Whittingdale's appointment as Culture Secretary on Monday.
Mr Whittingdale has previously described the BBC licence fee as "worse than a poll tax", calling it "unsustainable" in the long term.
'War on the BBC'
His appointment sparked headlines on Tuesday including The Daily Telegraph's "Tories go to war on the BBC" and The Times's "Cameron's shot across the bows to the BBC".
The Sun called the appointment "payback time" after "decades of BBC bias against the Tories, subtle and blatant".
However, appearing on BBC Radio 4's Today programme, former Culture Secretary Sajid Javid rejected the idea the government really was "going to war".
"No not at all. I think there's a bit of over excitement in those headlines," said Mr Javid.
"I think first of all John Whittingdale is an excellent choice for culture secretary. He is someone who is hugely experienced.
He said Mr Whittingdale had "looked into this issue many times" while chairing the Commons culture, media and sport select committee, and was "the right person to take this forward."
Mr Javid sidestepped questions about how he or Mr Whittingdale personally felt about the licence fee, saying it was a matter for charter review in 2016.
"John will lead that process, but it will be driven by evidence... That's the best way to make these types of decisions," said Mr Javid.
On Monday a BBC spokesperson said: "We're looking forward to working with the new secretary of state."