Ant and Dec repeat Bafta success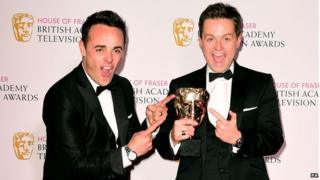 Ant and Dec have picked up two prizes at the Bafta Television Awards for the second year in a row.
The duo won best entertainment show and best entertainment performance for their ITV show Saturday Night Takeaway.
Picking up their first prize, Ant McPartlin told the audience: "What a great start to the show - for us. We're delighted with it, thrilled."
ITV's Coronation Street also won best soap in the year it celebrated its 60th anniversary.
Producer Stuart Blackburn dedicated the award to "his friend and colleague" Anne Kirkbride, who died in January after 42 years playing Deirdre Barlow.
"Sometimes people sneer at soaps," he said, "but we do some of the best moments on television."
Detective drama Sherlock won the Radio Times audience award, beating the likes of EastEnders, Strictly Come Dancing, The Great British Bake Off and The Game of Thrones.
But its star, Benedict Cumberbatch, who absented himself from the ceremony to look after his pregnant wife, lost out on the best actor prize for the third time.
The honour went instead to Jason Watkins, for his role in The Lost Honour of Christopher Jeffries.
The real-life drama, about a former teacher who was wrongly accused of the murder of Joanna Yeates, also received the award for best mini-series.
Best actress went to newcomer Georgina Campbell, who played a 17-year-old victim of domestic abuse in Murdered by My Boyfriend.
After beating Keeley Hawes, Sheridan Smith and Sarah Lancashire, she admitted she had not written a speech, because she did not expect to win.
One of the night's other big winners was BBC Two's Marvellous, which told the story of Neil Baldwin, a man with learning difficulties who became kit man with Stoke City Football Club.
It picked up best single drama, while Gemma Jones, who played Baldwin's mother, Mary, won best supporting actress.
The 72-year-old appeared close to tears as she said: "I'd like to thank the real Neil [Baldwin] for allowing us to intrude on his extraordinary life."
At the beginning of the evening, BBC One led the field with 23 nominations. However, awards were more evenly distributed among the UK's broadcasters.
Channel 4 received the most awards - six in total - including best feature programme for Grand Designs, which beat The Great British Bake Off.
Sky News picked up the news award for its coverage of the Ebola crisis in west Africa. BBC Three - which is due to move online next year - took home two prizes, matching the haul of BBC One, which won the entertainment prize, for the Graham Norton Show, and best drama series, for Happy Valley.
The comedy actor prizes went to Matt Berry for Channel 4's Toast of London and Jessica Hynes for BBC Two's W1A.
To rapturous applause, the actress told the audience: "I'm from a single parent family. I'm really worried about the cuts that are coming in state education and to people in low income families, because I don't feel low income means low talent, low imagination or low intelligence."
BBC One's coverage of the event drew in an average of 5.2 million viewers and a 23.9% share of the total TV audience, according to overnight viewing figures. The figure is up from the 5.1 million who tuned in last year.
Hosted by Graham Norton, the awards were held at the Theatre Royal on Drury Lane.
Norton received a Bafta of his own, for best comedy entertainment programme - deadpanning "yay, me," to the cameras.
The chat show host went on to thank his long-serving production team.
Addressing the audience, he said: "Most of us, I'm sure, have been in great big stinkers - turkeys so big they wouldn't fit in a domestic oven.
"When you're in a turkey, you never blame yourself. It was badly written, it was badly scheduled...
"Equally, it stands to reason if you're in something good, it's nothing to do with you either."
In the international category, two of the four nominations went to streaming service Netflix, showing the increasing impact of non-traditional broadcasters.
But the category was eventually won by HBO series True Detective.
Lifetime achievement awards were received by newscaster Jon Snow and screenwriter Jeff Pope, whose credits included Cilla and the feature film Philomena,
Charlie Brooker also led a celebration of television critic, broadcaster and poet Clive James.
"Summarising Clive James is a daunting task," said Brooker. "Throughout his career he's juggled popular appeal with the high arts.
"Not many people can claim to have hosted a mainstream Saturday night TV show and published an acclaimed literary translation of Dante's Inferno. Not even Nick Knowles."
James, who received a Bafta Special Award earlier this year, was too ill to attend the ceremony but a film was shown documenting the highlights of his varied television career.
"I only wish I could be with you," said the broadcaster, who has terminal cancer, in a brief video message.
James said he missed his television career "sorely" but maintained he had made the correct decision when he retired in 2001.
Holding aloft his Bafta trophy, he added: "I've at last realised who that is. They've poured molten gold on a wax face mask of Benedict Cumberbatch."