Billy Elliot: still dancing 10 years on
The hit musical Billy Elliot is celebrating its 10th birthday.
Based on the 2000 film starring Jamie Bell, the show opened at London's Victoria Palace Theatre on 12 May 2005, and has since been seen by 10 million people worldwide.
Written by Lee Hall and directed by Stephen Daldry, it includes a score by Elton John.
Ahead of a gala anniversary performance on Tuesday, we caught up with some of the actors who have played the ballet-loving son of a coal miner over the last decade.
Liam Mower
Liam Mower was 12 when played Billy in the 2005 original cast. Now aged 22, he is a dancer with the Matthew Bourne's New Adventures where he has starred in The Nutcracker, Edward Scissorhands and is currently on tour in The Car Man.
"Billy Elliot was the first thing I'd ever auditioned for," Liam recalls. "It was quite surreal when I got the role.
"Moving down to London and saying goodbye to your family was quite daunting, but we were so well looked after.
"I lived in a house in London with the other Billys [child labour laws mean the starring role is shared between several actors] and other cast members. It felt like a family environment.
"I was juggling the show and doing my dance training the Royal Ballet School and academic classes. It was quite difficult to find time to see my family in east Yorkshire, but being on the stage was the thing I really loved to do the most."
Liam says that Billy Elliot is such a demanding role because the character is never really off the stage.
"I'm working with Matthew Bourne now and doing different productions, but Billy remains one of the hardest things I've ever had to do.
"Being on stage at such a young age you learn so much - especially as most of the cast are adults.
"It's opened a lot of doors for me. As soon as I was doing Billy I knew that being on stage was what I wanted to do when I was older. "
Why has the musical enjoyed such longevity? "It's quite raw and gritty and people can relate to the characters, especially to Billy. Amid the turmoil of the miners' strike we see this young boy blossom and find this passion for dance. Many people return to see the show again because it's affected them in some way."
Layton Williams
Layton Williams played Billy Elliot between February 2007 and November 2008. He has appeared on TV in BBC Two's Beautiful People and in all three series of BBC Three's Bad Education. Now 20, he is currently in stage show The Car Man (alongside Liam Mower).
Layton had no dance experience when he auditioned for the role at 11. "I had zero training, no ballet, no tap - they said to just pretend, so that's what I did.
"I must have been awful, but they evidently saw something and taught me how to dance. It was literally like the Billy Elliot story."
After two years of training, Layton became one of the longest-serving Billys.
"It's one of the hardest child roles out there. I've not seen anything since that has touched it. The choreography is so complex - it's a lot to ask for a child. Watching it as an adult I can't believe I actually managed to do that."
Layton's favourite song and dance routine? "I loved the buzz of Electricity. I used to dread it - but then I'd do it and it would feel amazing."
His advice to future Billys is to "go for it" and not to worry about missing family and friends.
"It can set you up for another 10 years. It did for me. I'm 20 now and I've not gone back home since - not that I don't love my family!"
Dean-Charles Chapman
Dean-Charles Chapman was Billy from 2009 to 2011, but also played the role of Billy's friend Michael in 2008, after starting as Small Boy in the original 2005 cast. He has been in BBC One's The White Queen, the film Before I Go To Sleep (alongside Nicole Kidman and Colin Firth) and he plays Tommen Baratheon in Game of Thrones.
Dean auditioned for Billy Elliot's Small Boy role when he was just six years old. It was watching the three original Billy actors - George, Liam and James - that inspired him to pursue his stage career. "I wanted to be like them. They gave me the courage to do Billy Elliot in the future."
He is the longest-serving Billy in the show's history. "It is a good challenge. I never thought I could lead a show for three hours but I did. It's number one on my list of achievements."
Dean's favourite moment in the show is the dramatic act one closer Angry Dance. "It's where Billy has been told he can't do ballet any more by his dad and he goes into this massive rage. It's very tiring. You've got to be very fit to do it. But once you've learnt what to do it all flows naturally."
What advice would he give to a boy auditioning for Billy? "Keep your head down, work really hard, don't give up - and eat the right food!
"In the house where we lived there was a food schedule on the wall: You'd have chicken one day, then pasta, all things that give you lots of energy for the show - and lots of fruit as well!"
Thomas Hazelby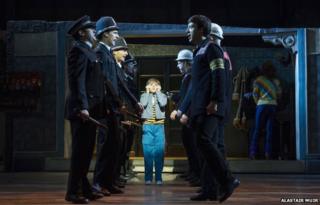 Thomas Hazelby is 10 years old and the 40th Billy Elliot in the London production. He started dancing at the age of three at his mum's dance school.
"I've been in the role for about two months," says Thomas, whose family are from Doncaster. "It's really good. It was amazing to find out I'd got the part.
"It's really hard when you are on the stage but the audience is really great and I'm always buzzing when I come off.
"My favourite dance is Angry Dance because I love tapping. You've got to conserve your energy through the whole first act and then just let it out."
Thomas is one of four Billys in the current cast and performs at two or three shows a week. He also has school in the mornings and then rehearsals in the afternoon.
"My favourite subject is maths," he says, "but for my future career I want to carry on dancing and acting. I'd like to play Billy as long as possible. When I'm 20 I'd love to be an actor or a dancer at the Royal Ballet School."
He adds: "I'm really looking forward to the 10th anniversary - it's going to be very exciting."
Billy Elliot on stage
The first ever performance of Billy Elliot the Musical took place on 31 March 2005 at the Victoria Palace Theatre, London. The official opening night took place on 12 May 2005.
Billy Elliot ha been staged on Broadway in New York, as well as in Sydney, Melbourne, Chicago, Toronto and Sao Paulo.
The first foreign language production was staged in Seoul, South Korea in 2010.
More than 10 million people have seen Billy Elliot the Musical worldwide - half of them in London's West End.
Simon Cowell, Louis Walsh, Sharon Osbourne and score writer, Elton John, have all made cameo appearances in the show.
Since its world premiere, 40 boys have played Billy in London, 10 have played Billy in Australia and 29 boys have played Billy in North America.
A total of 83 boys, including Jamie Bell who played Billy Elliot in the award-winning film, have now performed the title role around the world,
Over the last 10 years, the London cast has pirouetted through almost 3,000 ballet shoes.