Stars silent for Sky comedy season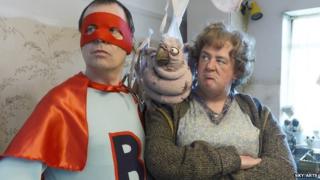 Johnny Vegas, Frank Skinner, and Kim Cattrall are to star in four silent comedies commissioned by Sky Arts.
The dialogue-free comedy dramas will form part of a physical comedy season on the channel later this year.
Vegas will star in Brilliantman! alongside Kevin Eldon as a wannabe suburban superhero whose incompetence gets him into sticky situations.
Skinner plays an antiques dealer targeted by incompetent robbers in the "slapstick riot" Rotters.
The 30-minute films will be broadcast in the autumn.
Sex And The City actress Cattrall will play the eponymous heroine Ruby Robinson, who learns a valuable lesson while living with a troupe of acrobats in an abandoned house.
And Vic Reeves takes on the role of a blind man whose guide dog is unwittingly killed by a prawn sandwich in Three Kinds of Stupid.
The shows were ordered by Sky Arts director Phil Edgar-Jones.
"There's no finer sight in life than someone bumping into something," he said.
"This was the starting point for our brand new physical comedy season on Sky Arts. Luckily the brilliant comic talent who signed up to make four top notch, one-offs all had a rather more sophisticated view of what a silent comedy should be."