Joan Collins made a dame by Prince Charles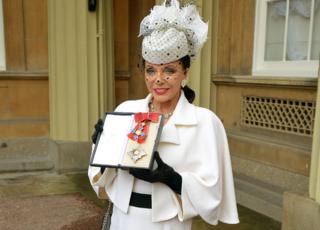 Joan Collins said becoming a dame had "never even crossed her mind" as she received the accolade from the Prince of Wales.
"Not in a billion years did I think I would be made a dame," said the 81-year-old after Thursday's investiture ceremony at Buckingham Palace, London.
"It wasn't anything I ever aspired to. I just wanted to be jobbing actress."
She was honoured for her charity work, including with the NSPCC and breast cancer research.
She is also a patron of children's hospice charity Shooting Star Chase, which nominated her for the honour.
Accompanied by her fifth husband, Percy Gibson, and her daughter, Tara Newley, Dame Joan said she was still working and had "a lot of irons in the fire".
One of them is The Time of Their Lives, a film project for which she and prospective co-star Pauline Collins are attempting to raise funds.
Dame Joan can also be seen alongside Elizabeth Hurley in The Royals, a US TV series about a fictional version of the British Royal Family.
Speaking last year, the one-time Rank film starlet said she was "ecstatic" to receive her latest honour as she was "very patriotic and quite a royalist as well".