Iron Maiden to receive Silver Clef for outstanding contribution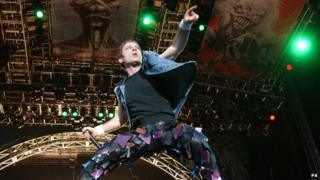 Rock group Iron Maiden are to receive the Silver Clef prize for outstanding contribution to music at this year's Nordoff Robbins awards ceremony.
The band said they were "extremely proud" to be honoured by the "exceptional" music therapy charity.
"Their dedication to changing people's lives through music therapy is something we all very much support," they added.
The awards luncheon will be held on 3 July.
Previous winners include David Bowie, Queen, Eric Clapton and Oasis.
Pop-opera crossover group Il Divo will pick up the classical prize at the awards luncheon, with more winners to be revealed on the day.
Valuable work
Iron Maiden were formed in 1976, the same year the Silver Clef prize was established.
They went on to become one of the most successful and influential heavy metal groups in history, selling 90 million albums worldwide.
Known for songs such as Run To The Hills, Can I Play With Madness and their 1991 number one hit Bring Your Daughter To The Slaughter, they tour relentlessly, playing more than 2,000 concerts over the last four decades.
The current line-up consists of founder, lyricist and bassist Steve Harris, vocalist Bruce Dickinson, guitarists Dave Murray, Adrian Smith and Janick Gers, and drummer Nicko McBrain.
But their most recognisable member is probably Eddie - the undead mascot who appears on most of the British band's artwork.
Iron Maiden are the 38th act to receive the coveted Silver Clef in its 40-year history, as The Who and Eric Clapton have both picked up the honour twice.
The Who were the first ever winners in 1976 - when they were presented with their award by Twiggy) - and again on the 30th anniversary in 2005; Clapton took his awards in 1983 and 1993.
Nordoff Robbins' chief executive Julie Whelan said: "It is because of events like the Silver Clef Awards that Nordoff Robbins is able to continue to deliver essential music therapy services to vulnerable and isolated people across the UK.
"Since 1976, the event has brought together artists from all areas of the music industry, raising an incredible £8.5m in the process.
"Congratulations to our first two winners. We are honoured they will be joining us in July."
Former JLS star Oritse Williams, who is one the charity's ambassadors, said: "Before JLS became successful, I used to work with kids with special needs. I would teach them music and see them respond.
"So when I saw there was a charitable organisation that could facilitate this work, I jumped at the opportunity to get involved.
"I've been to some of their workshops and I've seen kids with very short attention spans start engaging. You beat the drum and they respond. You play an instrument and they want to play it with you.
"They find passion, which is incredible. Music becomes a language to them and they're able to communicate."