Emmy lifetime honour for TV's Golden Girl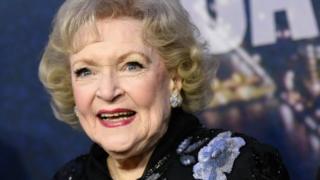 Golden Girls star Betty White is to be honoured with a lifetime achievement Emmy award.
The 93-year-old, whose career has spanned more than 70 years, will receive the accolade at the 42nd Daytime Emmy awards next month.
She has previously won seven Emmys, including the award for outstanding game-show host for Just Men.
Bob Mauro of the National Academy of Television Arts and Sciences called White an "American institution".
"She is one of the most beloved female performers in the history of television," he said.
"Betty's career as a female pioneer has followed television from literally the beginning of the medium, winning her first Emmy Award in 1952, to the digital-streaming future, winning again in 2010."
White famously played the naive-but-loveable Rose Nylund in The Golden Girls, which led to seven nominations for best actress in a comedy series, with a win in 1985.
In the 1960s, White was a frequent contestant on Password and also appeared on The Match Game and The $25,000 Pyramid.
She had a recurring role on soap opera The Bold and the Beautiful from 2006 to 2009, and can currently be seen on ITV in the prank show Betty White's Off Their Rockers.
"Betty is a woman who has excelled in everything she has ever done," said Emmy vice-president David Michaels. "She is also one of the nicest women in show business and we are proud to be bestowing this honour on such an exemplary role model for our entire industry."
White will be presented with the Emmy on 26 April.
Previous winners of the award include Oprah Winfrey, Barbara Walters and Regis Philbin.