Buyer and Cellar play explores Barbra Streisand's basement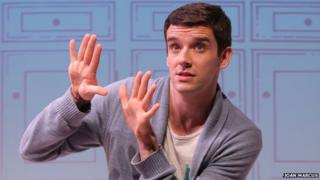 What does Barbra Streisand have in her basement? Buyer and Cellar, a one-man comedy play that's already been a hit in the US, is about to reveal all to audiences in the UK.
In Buyer and Cellar, Michael Urie plays an actor who takes the bizarre job of working in a shopping mall that Barbra Streisand has built in the basement of her Malibu home.
Although what happens in the play is fiction, the private shopping mall - with its doll store, clothing boutique and sweet shop - actually exists.
"Instead of just storing my things in the basement, I can make a street of shops and display them," she once told Harper's Bazaar.
Playwright Jonathan Tolins was inspired by Streisand's coffee table book, My Passion for Design, which includes a chapter devoted to her underground arcade.
"I studied that book and every picture very closely," says Tolins, when I meet him and Urie in the shop-free basement of London' s Menier Chocolate Factory, where Buyer and Cellar opens this week.
"I became obsessed with it and made a joke about what it would be like to be the guy that works down there.
"A lot of people see the play and buy the book and are shocked at how little I made up."
Twenty pages into writing Buyer and Cellar, playwright Jonathan Tolins showed the script to his lawyers. "They told me no-one will ever produce this play because Barbra Streisand will sue and no producer will ever take that risk.
"I thought I'd finish it and it would get passed around Hollywood and I'd get jobs off it. That was liberating because I was no longer writing for an audience."
But two years ago Buyer and Cellar opened in New York with Ugly Betty star Urie creating the role of Alex More.
He plays several other roles too, including Alex's boyfriend, Streisand's housekeeper and even Streisand herself.
"I got the guy right away," says Urie. "I know what it's like to struggle. I've had weird jobs and weird bosses, both in and out of show business.
"She's at the top of the heap and he's at the bottom of the barrel. I've never been at the top of the heap [but] I've walked down red carpets and had people scream my name.
"I understand how isolating something like that can be. When Ugly Betty first came on I'd gone from unemployment to suddenly being famous and being recognised in grocery stores and going to the Golden Globes - and then getting in a limo and going home and being all alone."
Tolins jumps in: "Judy Garland used to say you can't take the audience home with you - and that's hard."
As far as Tolins knows, Streisand has never seen the show. "A lot of people who are close to her and work with her have seen it and they love it. They come backstage and tell Michael: 'I've been in the basement'.
"Some of them say Barbra would love it, and some say no, no, no, no, no she wouldn't."
The playwright would rather she never sees it. "Ultimately, it's a very loving portrait of her, but I think it would be very awkward and difficult to sit through it because there will be little things she might fixate on and get upset about."
"It's not mean-spirited," adds Urie. "There's nothing in it about her that isn't true. But what the audience finds funny might hurt her feelings."
Tolins did actually meet Streisand briefly - in 1993 - when she attended a performance of his play The Twilight of the Golds.
"I was 26 years old," he recalls. "She had just bought a KitKat bar from the theatre and offered me a piece of it and I said no."
So what does his play say about the nature of fame?
"I don't really have a message, but I want to show the difficulty of having a relationship where there is this incredible disparity between power and fame and money - and what a double-edged sword celebrity is."
I wonder how Urie would feel if Streisand came backstage one night after the show. What would he say?
"I imagine I would be sized up," he says. "I feel like it would be an awkward interaction. Maybe years from now I hope to meet her because I love her and I can say 'I'm the guy who did the play about you'.
"On the other hand, I would like to think that she and I could have a conversation much like she and Alex have. There is a lovely rapport they create between each other."
Buyer and Cellar, directed by Stephen Brackett, runs at the Menier Chocolate Factory until 2 May