Gregory Porter: Less about the hat, more about the heart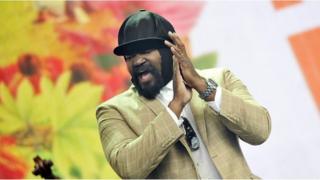 Grammy Award-winning jazz singer Gregory Porter talks about the music that made him, the joy of vocal imperfections and being big in Germany.
A long time ago, before his music career was paying sufficiently, Gregory Porter says he "had the worst jobs on the face of the Earth".
"I used to work in a dog food plant, shovelling corn and dead and dying mice into a chopper that chopped it all up and made it into dog food - and I got fired from it.
"The boss said to me 'you can shovel faster' and at this time I already had a college degree, so I was like 'OK Gregory this is it'."
Three solo albums down the line and Porter is still riding high on his third, 2013's Liquid Spirit, having recently put out a deluxe version.
It features a duet with Laura Mvula with whom Porter will team up again for the Cheltenham Jazz Festival on 4 May.
The pair will premiere new arrangements of George and Ira Gershwin's classics such as I Got Rhythm and Summertime, in a concert that will be broadcast on BBC Radio 2.
"Laura's coming from a musical and emotional place that's really all her own," says Porter, adding: "She's her own stamped individual and I like that."
He feels interpreting Gershwin with Mvula will be "fun and a challenge" and it's just the latest example in a varied career that has seen Porter flit around musical genres like a restless butterfly, rarely settling in one place for very long.
After an early start singing gospel in church, 43-year-old Porter says he grew up listening to soul music with his brothers and sisters.
He considers himself a "jazz singer", yet also feels he's got a touch of the singer-songwriter wrapped up with "some pop sensibility".
His most recognisable hit in the UK has been the ballad Hey Laura, although some of his earlier jazz recordings such as the track Be Good (Lion's Song), have won over a far larger audience online.
"Market me, push me any way that you want to," he says.
"I'm really just a singer that's trying to make some music that strikes to the heart."
Talking at length about his influences, Porter says he naturally seeks out artists who have authenticity running through them - something he aims to emulate in his own performances.
His list of favourites includes Marvin Gaye, Bill Withers, Donny Hathaway and Diane Reeves but he also indicates deep respect for Bob Dylan.
In his own work, Porter, who writes most of what he sings, insists he's always had "complete artistic control" and he "doesn't second guess" himself in the studio, he simply "makes music the way that I feel it".
As for his voice, he's "never bothered to worry about perfect pitch", though some people say he has it.
So has he ever hit a bum note?
"If I can hear the music then no, I don't hit a wrong note," Porter smiles. "But if I can't hear the music because the audience is screaming or the sound system is bad, then I'm subject to stray."
He's not averse to preserving some imperfections for posterity though.
"The voice is probably supposed to have some cracks and pops and some mistakes in it," says Porter.
"And I've made it a choice on my records that sometimes I leave the breath or the trailing note that sometimes falls into a flat or a sharp.
"I just let it happen because I want a human sound on the record."
He chuckles at talk of how his fame has been spreading around the world, though counts the UK as his "second home".
"The UK helped break me, yes, I would say that very much so," he says.
"Quite frankly other markets got jealous and so France was like: 'Wait a minute he's ours!' then Germany was like: 'No he's ours!' and then the US was like: 'Well he's really ours'."
He says it's rare for him to be able to walk down the street in Germany without being recognised.
Surely some of that has to do with his now infamous hat that he's rarely seen without in public?
"It's my thing," he says simply.
"You've seen me a few years with this now and you'll see me a few more years with it, but I buy my own hats."
In case you were curious, his favoured hat - one that also covers his ears and his chin - does not get itchy or hot, and Porter has many of them to choose from.
But headgear is not Porter's favourite topic of conversation. As he politely states, he tries "to make it less about image and less about my hat and more about my heart and my sound".
Moving back to the music accordingly, Porter has an unexpected collaboration with Disclosure to come, which has already been recorded and "sounds cool", he says.
Plus there will be future work with fan and friend Jamie Cullum.
The pair have each contributed to the other's albums so far, and Porter predicts "we will continue to work with each other for some time to come".
When he gets home to New York in between gigs (of which there were more than 250 in 2014) Porter is content composing songs for his two-year-old son, admitting the toddler already has a "greatest hits collection" of his own personal tunes.
He wants "to continue to say things that matter" to feed the "river of emotion that can come from those things that I really care about".
Porter cites children, injustice, "the people we consider on the underneath of our society" and the "positive and negatives of love" as subjects he writes about, along with jealousy.
"I know I can sing and speak about those things because I've been through them," he says.
"I've had a little bit of jealousy one time and I've created some before".
As for his ambitions, previous work with the Metropole Orchestra and the BBC Concert Orchestra unearthed a desire for further orchestral exploration of his compositions.
"It's always extraordinary to me that these small [song] ideas that come to me on the train or in the coffee shop, they're then expounded upon by 60 or 70 musicians.
"The journey of the song, it starts as an embryo and it's still growing or it's fully grown.
"That's an extraordinary experience and it keeps happening to me.
"If it stops, I've had my time, but keep going baby!"