Dennis Hopper film appeal launches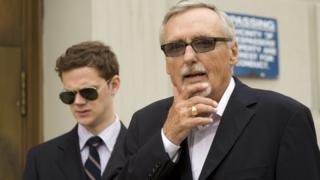 The director of Dennis Hopper's final film is launching an fundraising appeal to get it finished.
Shooting on The Last Film Festival came to a halt in 2010 when Hopper died, aged 74, after being diagnosed with prostate cancer.
Only a few scenes were left unfilmed on the project.
Five years on, film-maker Linda Yellen is seeking $90,000 (£60,000) to finish post-production work so the film can finally reach an audience.
"It was such a shock when he died," she told the BBC. "Dennis was a picture of health in the movie and on set and had more energy than anybody."
"At the time I didn't know how to resolve the footage with the scenes missing. There was a a feeding frenzy of people who... wanted the film out to capitalise [on his death].
"After a few years passed I took another look at it and I figured out how we could edit things and make it work without additional shooting."
Known for his appearances in such cult films as Easy Rider, Apocalypse Now and Blue Velvet, Hopper's final role saw him in a more comedic mode.
In The Last Film Festival he plays Hollywood producer Nick Twain, who travels to the small town of O'Hi to screen his latest movie at its chaotically organised film festival.
"The character he plays is a man with a love-hate relationship with Hollywood," said Yellen. "He loves the film-making and hates the business side, which is something Dennis really identified with."
If the Kickstarter campaign reaches its target, the money will pay for the rights to use footage from other films, as well as editing and special effects shots.
Among the rewards for those backing the project are signed scripts, invitations to the premiere and dinner with Hopper's co-star Jacqueline Bisset.
"Working with Dennis Hopper, as an iconic figure ever since I heard of him in the '60s, was a blast," the British actress said, describing him as "a fiery, complex, emotional artist",
"He was the coolest guy without even trying."
The cast also includes Joseph Cross, JoBeth Williams and Leelee Sobieski.
Yellen, who co-wrote the film after a chance meeting with Hopper at the Sundance Film Festival, said the actor saw a rough cut of the movie before he died and "loved it".
She decided to launch the campaign after other investment offers came with "unwelcome demands", such as cutting certain scenes, altering the film's score and even "changing Dennis Hopper's voice".
Yellen believes Hopper would have approved of her fundraising plan.
"By the time he died, crowd funding was just beginning so I don't think he ever got a real taste of it.
"But now it's such an independent tool for a film-maker, he just would have relished it."