Jennifer Lawrence to star in Spielberg war biopic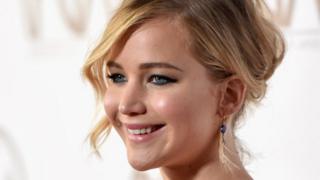 Actress Jennifer Lawrence will play war photographer Lynsey Addario in a film directed by Steven Spielberg, based on Addario's memoir.
The Pulitzer Prize-winning journalist has photographed victims of conflicts in Afghanistan, Iraq, Darfur and the Democratic Republic of Congo (DRC).
She was also kidnapped in Libya.
Her book, It's What I Do: A Photographer's Life Of Love And War was the subject of a film studio bidding war when it was published last month.
Deadline said Warner Bros film studio had secured the rights to the book with Spielberg attached to direct the film, American Sniper's Andrew Lazar to produce and Lawrence to star.
Several other studios, directors and actresses were reported to have been eyeing the project, after excerpts of the book appeared in The New York Times Magazine.
They include Working Title with Reese Witherspoon; Darren Aronofsky and actress Natalie Portman; The Wolf Of Wall Street's Margot Robbie; and The Weinstein Company, who hoped to snare George Clooney for the project.
Addario's book details her time spent time in Afghanistan during the post-9/11 invasion, where she photographed Afghans who suffered during the Taliban regime.
Other victims of conflict highlighted by Addario's work include those experiencing genocide in Darfur and women who had been raped in DRC.
The book also documents her own torment at the hands of loyalist Libyan forces in 2011. She was one of four New York Times journalists captured and subjected to physical abuse over six days during the civil war.
Addario also discusses her private life, and reveals how the scenes she witnessed at work increased her desire for a family of her own, how she met her husband and how she learned to live her life as both a mother and a war correspondent.