Tintin items up for auction in Paris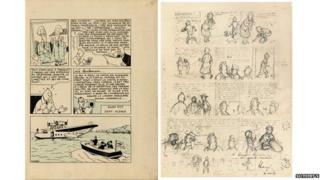 Hundreds of storyboards, drawings and books by Tintin creator Georges Remi - better known as Herge - are to go under the hammer in Paris this weekend.
Sotheby's will put 288 items up for sale on 7 March, around 50 of which are signed by the Belgian cartoonist.
One of the drawings - used on the cover of a 1938 edition of weekly supplement Le Petit Vingtieme - is tipped to fetch as much as 480,000 euros (£350,000).
Tintin made his first appearance in the supplement's pages in 1929.
Other items up for grabs include a storyboarded page from Tintin adventure The Castafiore Emerald, which includes a written dedication to screenwriter and novelist Francois Riviere.
Another is a page from King Ottokar's Sceptre, described as "a cult book" by Sotheby's, whose last panel depicts bumbling detectives Thomson and Thompson travelling by boat to a seaplane.
Ten more Tintin originals will be offered for auction when Christie's holds its own sale of "bande dessinee" - drawn strips - in Paris on 14 March.