Oscars 2015: Politics takes centre stage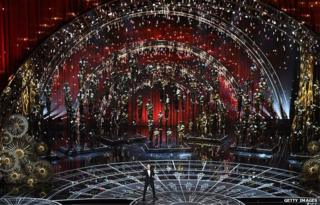 This year's Oscars may not have contained any big surprises, but it is likely to be remembered as the one where politics took centre stage.
Some commentators are wondering if it might be the most politically-charged Oscars ceremony ever.
Host Neil Patrick Harris set the ball rolling when he used his opening line to refer to #OscarsSoWhite debate.
"Tonight we honour Hollywood's best and whitest - sorry, brightest," he quipped.
The controversy over the lack of diversity had begun when it transpired all of this year's 20 acting nominees were white, with British star David Oyelowo a notable snub.
And, after the Sony Pictures email hack revealed that Jennifer Lawrence and Amy Adams earned significantly less than their male co-stars, Patricia Arquette used her best supporting actress speech to call for equal rights for women.
"To every woman who gave birth, to every taxpayer and citizen of this nation, we have fought for everybody else's equal rights. It's our time to have wage equality once and for all and equal rights for women in the United States of America."
Sitting in the audience, Meryl Streep and Jennifer Lopez responded with delight, clapping and punching the air.
Earlier best actress nominee Reese Witherspoon had spoken on the red carpet about her #AskHerMore campaign, which encourages reporters to ask women about their creative work and not what dress they are wearing.
The star said: "There are so many amazing, talented nominees this year! Let's hear their stories! Spread the word."
Questions she said she would like to hear included: "What's the biggest risk you've taken that you feel has paid off?" and "What accomplishment are you most proud of?"
Full Oscars coverage
Racial equality themes returned when Common and John Legend performed the Oscar-winning Glory from civil rights drama Selma - giving the film its only award of the night.
Oyelowo, who plays Martin Luther King in the film, cried during the performance.
Picking up his Oscar, Legend said: "We wrote this song for a film that was based on events that were 50 years ago but we say that Selma is now because the struggle for justice is right now."
He went on: "We live in the most incarcerated country in the world. There are more black men under correctional control today than were under slavery in 1850."
Asked about his speech in the press room, Legend said incarceration "disproportionately" affected black and brown communities.
"And so when we think about equality and freedom and justice, we know we've got more work to do."
Other issues also came up. Julianne Moore won best actress for her role as a woman with early-onset Alzheimer's.
"So many people with this disease feel isolated and marginalized and one of the wonderful things about movies is it makes us feel seen and not alone," she said. "And people with Alzheimer's deserve to be seen, so that we can find a cure."
Accepting the Oscar for documentary short, Crisis Hotline: Veterans Press 1, co-director Dana Perry called for greater awareness of suicide. She dedicated the award to her son who killed himself at the age of 15.
Perhaps the most emotionally-charged speech of the night came from Graham Moore, who won best adapted screenplay for The Imitation Game. On stage, he revealed on stage he had attempted to kill himself aged 16 because he "felt weird".
"Now I'm standing here and so, I would like for this moment to be for that kid out there who feels like she's weird or she's different or she doesn't fit in anywhere. Yes, you do. I promise you do. You do. Stay weird."
Moore told the BBC backstage that he had wanted to use his 45 seconds on stage "to say something meaningful".