Radio 4 to broadcast forgotten Harold Pinter screenplays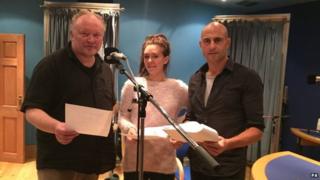 Two forgotten Harold Pinter screenplays, which were never made into films, have been re-made as radio plays by the BBC.
The first is based on a Joseph Conrad novel called Victory written in 1982.
Radio 4 will broadcast it on Saturday, 28 February, followed by another work, The Dreaming Child, on 7 March.
The network's commissioner, Jeremy Howe, described the screenings as being both "utterly different" and a "treat for listeners".
Leading dramatist
Victory will be produced by Sir Richard Eyre and stars Mark Strong, Simon Russell Beale and Bjarne Henriksen from cult Scandinavian TV serials The Killing and Borgen.
It follows the disenchanted life of Heyst, a mysterious Swedish Baron living alone on a deserted Island in the 18th Century Dutch East Indies.
The second screenplay, based on a short story by Out Of Africa author Karen Blixen, stars Last Tango In Halifax's Anne Reid and Rose Leslie from Game Of Thrones.
London-born Pinter, who won the Nobel Prize in Literature in 2005, died in 2008.
He was most renowned for critically-acclaimed plays such as The Birthday Party and regular work writing screenplays including The Go-Between and The French Lieutenant's Woman.
Radio 4 drama commissioner Jeremy Howe said: "It isn't often that you can announce the premiere of a script by the late great Harold Pinter, one of the leading dramatists of the twentieth century, and then two come along, both wonderfully Pinteresque and both utterly different in tone and approach. This will be a treat for listeners."