New London concert hall one step closer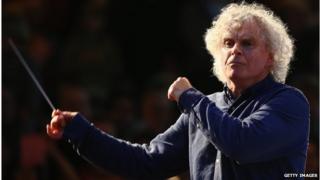 London is one step closer to a new state of the art concert venue after Chancellor George Osborne ordered an official feasibility study.
Conductor Sir Simon Rattle has led the campaign for a new concert hall in the capital city.
He told the BBC London's halls were not up to international standards.
The revered conductor, who is currently at the Berlin Philharmonic, said he would consider a London move if there was a "proper" venue.
Mr Osborne told the Evening Standard he had made the decision after speaking to "the likes of Sir Simon Rattle" who had impressed on him "the significant artistic, educational and economic benefits that a modern concert hall would bring not just London but the whole country".
The study is included in the chancellor's and London Mayor Boris Johnson's long term economic plan for London.
Mr Johnson told the newspaper the feasibility study "will enable us to understand fully the potential to build that centre and help to cement our position as a world city for culture."
'Straitened times'
Sir Simon has three years left on his current contract with the Berlin Philharmonic and it is understood he could move to the London Symphony Orchestra, however it would depend on a new venue.
"You have no idea how great the London Symphony Orchestra can sound in a great concert hall," he told the BBC's arts editor Will Gompertz.
Sir Peter Bazalgette, the chair of Arts Council England, is one of many who have welcomed the news.
"Simon Rattle is one of the world's greats. We'd love to see him back in London and we should do everything we can to achieve this. Anyone who heard him conduct Sibelius last week (at the Barbican) understands his genius," he said.
However some have questioned how a new concert hall can be afforded in times of austerity, including writer and broadcaster Ivan Hewitt.
"Spending many millions to build a hall get a few more seconds' reverberation time, and show that we're keeping up with Paris, Copenhagen, Lucerne etc is an indulgence we just don't need in straitened times," he said.