Teletubbies creator 'sad' about show's remake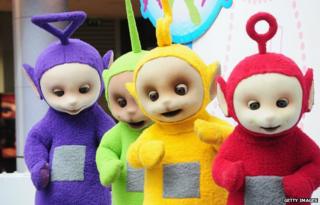 Teletubbies creator Anne Wood has said she is "a bit sad" that the hit 1990s children's show is being remade, and that she will not be watching it.
Wood, 77, told Radio Times she is not a fan of the trend for remaking old shows such as Dangermouse and Clangers.
"I'm a bit sad," she said. "It comes down to the times we're in: people feel safer remaking hits of the past rather than investing in something new."
Wood also produced hit show In the Night Garden featuring Igglepiggle.
"There are such a lot of programmes being remade and I just feel the children's television industry is worth more than that," said Wood, whose new show Twirlywoos begins on CBeebies next week.
"It would be nice if more encouragement was given to new work."
'Like my children'
Woods has been responsible for many of the UK's best-loved children's programmes and characters, including Roland Rat, Rosie & Jim and Brum.
The original Teletubbies, starring Tinky Winky, Dipsy, Laa-Laa and Po, ran on the BBC from 1997 to 2001 and sparked a number one single called Teletubbies say 'Eh-oh!' in December 1997.
Wood no longer owns the rights to the hit series, which she co-created with Andrew Davenport, as she sold them in 2013 to help fund new programmes.
She said she would not be watching the new series, which is due to air on CBeebies later this year, adding: "I couldn't bring myself to.
"I have nothing against them, it might be brilliant. They tell me they've got the best producer possible on it, so that's a good sign.
"But how could I watch it? All my programmes are like my children. It's like seeing a child remade in somebody else's image. So good luck to them."
Wood's new show Twirlywoos - a "situation comedy for three to four-year-olds" - features four bird-like creatures called Great BigHoo, Toodloo, Chickedy and Chick.
It uses stop-frame animation rather than hand puppets or people dressed in suits and is unashamedly educational.
"Educational ideas were present in Teletubbies and In the Night Garden but much more subliminally," said Wood.
"This show takes in the latest educational research and builds a comedy around it - whereas in the past I've just made a comedy and just by chance some of these ideas happened to be embedded within it."