The Grand Budapest Hotel wins screenwriting award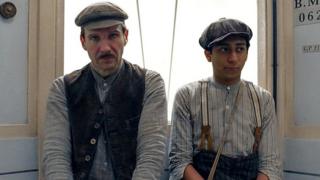 Wes Anderson's off-beat comedy The Grand Budapest Hotel has won the top film prize at the Writers Guild Awards.
The film, which is nominated for nine Oscars, won the award for best original screenplay - for a script co-authored by Anderson and Hugo Guinness.
Graham Moore picked up best adapted screenplay award for his work on The Imitation Game, about World War II code-breaker Alan Turing.
Moore paid tribute to the computing pioneer "for whom we made this film".
"He was probably the greatest genius of his generation and I am a screenwriter from Chicago. So it's very strange to be standing on stage now when he should be," said Moore, at a ceremony in Los Angeles.
The annual awards were announced simultaneously at ceremonies in Los Angeles and New York.
Grand Budapest Hotel - which picked up the Bafta for best original screenplay earlier this month - is nominated in the same category at this year's Academy Awards on 22 February.
Moore's script for The Imitation Game is also Oscar-nominated in the best adapted screenplay category.
It was beaten to the Bafta by Anthony McCarten's The Theory of Everything - which was not eligible as a nominee at the Writers Guild Awards (WGAs), because of Guild rules regarding jurisdiction and membership.
Another major Oscar contender, Birdman, was also ineligible because four of the writers are not guild members.
The Writers Guild Awards have a healthy track record of predicting the Oscar winners - picking the same winners in the adapted screenplay category 14 times over the past 20 years.
However, last year John Ridley's script for 12 Years a Slave was ineligible at the WGAs, yet went on to win the Oscar for adapted screenplay.
HBO's hit series True Detective, starring Matthew McConaughey, led the television categories, winning best drama and best new series.
"For an allegedly cold town," said creator Nic Pizzolatto, "since arriving here so many of my fellow writers and creators have shown me generosity and kindness and shared their experience with me. I'm just incredibly grateful for their camaraderie."
He added that the crew were "about halfway through filming season two.... I hope you like it."
TV's Louie also picked up two awards, for best comedy series and best comedy episode.
Grey's Anatomy creator Shonda Rhimes collected the Paddy Chayefsky Award for career achievement in TV, telling the audience she remains "amazed there is a job where I get to make stuff up for a living".
"I like that being powerful and bad ass... is just my right," she joked.
And there was a standing ovation as the Screen Laurel Award was presented to Daniel Ramis, on behalf of his late father Harold Ramis, whose screenwriting credits included Ghostbusters and Groundhog Day.
Ramis died a year ago this month, at the age of 69.